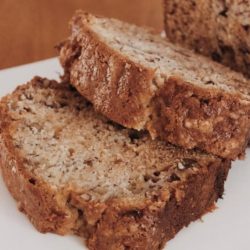 Banana Nut Bread Recipe
Ingredients
1

¼ cups

unbleached all-purpose flour

1

teaspoon

baking soda

½

teaspoon

fine salt

2

large eggs

½

teaspoon

vanilla extract

½

cup

unsalted butter

1

cup

sugar

3

very ripe bananas, peeled, and mashed with a fork (about 1 cup)

½

cup

Toasted walnut pieces
Instructions
Preheat the oven to 350°F.

Take a medium bowl and sieve the flour, salt and baking soda. Then set itaside.

Whisk the eggs and vanilla together in a liquid measuring cup with apouring spout and put it away as well

Gently brush a 9×5×3 inch loaf pan with butter.

Mix butter and sugar in a stand mixer with paddle attachment (or ahandheld mixer) until it's fluffy and light. Slowly pour the egg mixture in thebutter until it's well blended. Add the bananas and take the bowl out of theblender. The mixture may look curdled but don't worry about it.

Pour the mixture into the bowl with the flour, then mix well with a rubberspatula. Fold in the nuts and put this batter into the prepared loaf pan.

Bake for about 55 minutes. To check if your bread is ready poke a toothpickin the center, if it comes out clean the bread is ready to get out of the oven

Before removing the bread from the pan, let it cool for 5 minutes on a wirerack. Get it out of the pan and let it cool completely on the rack.
Notes
Note: You can cover it in plastic wrap. It's best if you serve it the next day.
I'd suggest making a few extra leaves, wrap them in plastic, and freeze. Thaw
it at room temperature for about an hour. Freezing slices works as well.
Easy Banana Nut Bread Recipe
I am a BIG fan of banana bread ?. And I mean a "BIIIIIG" fan. It's everything someone with a sweet tooth like me can ask for. This banana nut bread recipe brings you something to enjoy anytime. Yes, you read right; this banana nut bread recipe can be cooked quickly. Whenever you think you need something sweet in your mouth just cook this easy banana nut
bread recipe. Moreover, it's a good "last minute" gift for a wedding, a
birthday, or just an afternoon snack.
Banana bread is good on its own, but adding nuts takes it to the next level. If you are a "nut" person, this banana nut bread recipe is going to become
your favorite. But be warned, all it takes is one taste and you can be addicted to this banana nut bread recipe forever (talking from experience here). The banana bread is soft and tender with a taste that just transports you.
All right, let's talk business, or I'll just keep talking about how GOOD
banana bread is and miss out on what's important. When I say a recipe is
easy, doesn't mean it can't be ruined. You'll be surprised how easy it is to
mess up a recipe as simple as this banana nut bread recipe. As I always
say, it's absolutely essential to get the recipe right. If you follow the recipe
correctly, there isn't much to worry about.
Sometimes you don't read something important in a recipe because you're
just too eager. So it's better to read the whole recipe and the description
before making the dish, just to be sure. You have an easy banana nut
bread recipe, but that is not enough. There are a few tips and tricks you
should keep in mind when trying this recipe.
First of all, you should know that mixing the butter and sugar traps air in the mixture and gives a soft and tender texture to the banana nut bread
recipe. So don't think that you can just throw all the ingredients in a bowl
and mix.
Also remember that using too much flour gives a dry banana nut bread. The
secret to a super moist banana nut bread is the right amount of flour.
The best way is to spoon the flour into the measuring cup and scrap the
excess off with the flat side of a knife.
Sometimes people have the idea that the more you mix, the better the bread
will be. Let me tell you clearly, "that is NOT how it works". If you want a soft
and tender banana nut bread, just gently stir the wet ingredients into the dry ones. Besides, the more you stir, the more gluten develops in the mixture.
DON'T use Under-Ripe bananas in your banana nut bread recipe.
Firstly, mashing green bananas is not an easy job. And secondly, they don't
taste that good. I'd recommend using over-ripe bananas. And by over-ripe, I
mean those mushy, black bananas (spotted yellow bananas work too but
dark ones are still better). Overripe bananas give your moist banana nut
bread recipe, the "moist" of its name and add a sweet flavor as well.
If you don't have over-ripe bananas, here is a trick you can use to make them ripe quickly. Put the unpeeled bananas on a baking sheet and heat them in the oven at 300°F. Keep an eye on them until they turn black, that's when you
can take them out. Let them cool down and then use them.