Let's Start With Pickled Radish Recipe
This one's the first pickle recipe I ever tried. And I am so grateful for this because it taught me so much. I would like to share what I learned from this pickled radish recipe because it may help so many beginners out there. 
At first, I wasn't sure about posting this one because there isn't much to this recipe. It doesn't have that depth and background which I usually look for in my recipes.  
But a friend of mine showed me that food isn't just about history and interesting stories. It's about conveying your feelings to others. And yes, there is much more to cooking than I initially thought.
And that is what I'll talk about here. One dish that isn't just about history or cool tips to help you. This one is for those who see cooking as an art and pour their emotions into each dish they make. 
This Is Why Pickled Radish Recipe Is So Famous!
As I said, this one's pretty much what it is; a pickled radish recipe. No story to tell here. It was just a simple idea that first showed up in South Korea. From there it spread throughout Korea and soon all over the world.
Usually, it has an amazing partner, the Korean chicken. It tastes absolutely stellar with this dish. Some even say that the reason for the popularity of pickled radish is Korean chicken. Perhaps, that is why it's also called "Chikin-Mu", meaning "chicken radish".
I have always loved pickles. There was even a time when I ate them for breakfast, lunch, and dinner. (My parents were "furious" when they found a large empty jar of pickles). After that, the pickles in my diet were considerably limited. Whenever mum put some pickles on my plate she gave me a very strange look, the look I knew very well, the  "not-getting-any-more-of-this" look. 
And certainly, I wouldn't get any more pickles that day but the next day she would let little pickles slip into my plate. I think it was during these times that I learned to appreciate the unique flavors of different dishes my mum prepared.
That was when I truly fell in love with cooking.
When pickled radish recipe came into my Life?
Although I don't exactly remember the details, I know it was some sort of party when I first tasted pickled radishes. I was instantly blown away by it, mainly because it was something that I hadn't tried before.
When I was back home I tried that Korean pickled radish recipe. At first, it wasn't the best but not bad either, after two or three tries I made the best jar of pickled radishes and everyone loved it. Yes, they loved it so much that they didn't save ANY PICKLES FOR ME.
I tried many pickles after that but this quick pickled radish recipe was definitely my favorite. I know you think that I say this about all the recipes but that's just because I only share my favorites with you.
A Lovely Journey
When I first tried the pickled radish recipe, my mum was there with me and she reminded me of the time when I ate the whole jar of pickles.  We laughed like crazy people that day (not literally of course), and it felt good. 
Looking back, I see hundreds of moments like that. Everything I made,  my family stood beside me and I poured that love into my dishes. THAT  was my "secret ingredient", that made my dishes so special to me and to others. And that's why I share these stories with you, to help you find bits of love with your family and friends.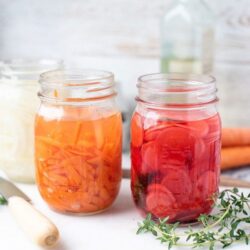 Pickled Radish Recipe
Ingredients
4

bunches of red radishes

1

cup

white vinegar

1

cup

water

2 ½

tablespoons

cane sugar

1

tablespoon

sea salt

½

teaspoon

mixed peppercorns

½

teaspoon

mustard seeds
Instructions
Step 1:

Cut the radishes into thin slices (or just halve them if you prefer it that way). Divide the slices, equally, into 4 jars.

Step 2:

Take a saucepan and heat vinegar, water, sugar, and salt over medium flame. Stir for about 1 minute, or until the sugar and salt are well dissolved. Turn the heat off and let the brine cool.

Step 3:

Then pour the brine over the radishes, stir in the peppercorns and mustard seeds.

Let it cool and chill in the fridge for about an hour. If you cut the radishes in half (and not in thin slices) let it sit overnight before using.