Grilled Blackened Chicken Recipe
These days I'm kind of obsessed with savory (as you might already know if
you've seen the last few recipes); so, bear with me as we try another spicy masterpiece called "blackened chicken recipe".
This recipe has become my favorite very quickly; mostly because my mother does most of the actual cooking; I'm just there, helping her out and that is the best thing in the world.
Honestly, at first sight, I thought it was just grilled chicken, just a "little"
burned. But then I saw the ingredients ('cause why not? And I wanted to
know how burned chicken breasts made their way in our cookbook). And I
was quite surprised (not "tooo" surprised; I mean I did know its name) to
find that it was a genuine recipe and the chicken was indeed blackened on
purpose.
So I searched, "blackened chicken recipe" on Google and as expected, I
found some interesting reviews. The reviews were good (mostly), so I used
the chicken breasts, all this hassle of finding a recipe was for, and "Voilà", a tasty and fresh dish for the family.
What is blackening?
This was a common question, I found, on the internet and I know why, I
asked that myself. So everyone who was wondering, blackening is actually
burning your meal but in a tasty way. (Please don't try "burning" anything
you cook, this is a delicate process and isn't good for all recipes).
It is often associated with Cajun Cuisine, which is another great collection of
delicious meals. Blackening became popular because of chef Paul
Prudhomme and has been since used as an amazing way of preparing your
chicken (or fish).
Does Blackened Chicken Taste Strange?
The answer to that question will be "no". If you do everything right then the taste of your chicken will be one to remember. This blackened chicken recipe is quite easy to follow, so you can understand it quickly. If you do it properly, you can make a memorable meal for your family too.
Blackening is quite like grilling; if you're a fan of grilling, you're gonna love
this best-blackened chicken recipe. Don't worry, it won't taste like coals
or anything like that, it will have a nice taste. When you blacken your
chicken with the tons of spices, you've covered it with, actually, get roasted and give a warm flavor to your blackened chicken recipe. If you made this
recipe please consider telling us what you enjoyed the most about it.
Some Health in a Lot of Taste

:

This blackened chicken recipe isn't exactly "bad" for your health but for
those of you who are on a diet, I'd say "maybe it'll be better if you made it on a cheat day". And those who aren't following a diet but still want a healthy meal, "it's ok to have it once in a while".

As I said, this recipe isn't bad for you, it might not look like it but it does have some healthy nutrients. The most prominent of these nutrients is the protein. Chicken has high levels of protein and that is good for your health.
So; try it, love it and have some control over your cravings 😉

How to Freeze the best blackened chicken recipe you'll ever
try?

Well, you tried the blackened chicken recipe, enjoyed it and now you've
got some leftovers. Not to worry 'cause these blackened chicken breasts will
freeze smoothly. Just store in an airtight container and freeze. They'll last
for 3 to 4 days. When ready to use, reheat at medium heat in a microwave
and enjoy.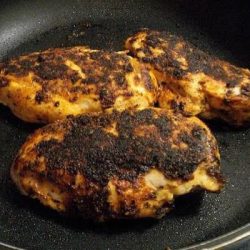 Blackened Chicken Recipe
Ingredients
½

teaspoon

paprika

⅛

teaspoon

salt

¼

teaspoon

cayenne pepper

¼

teaspoon

ground cumin

¼

teaspoon

dried thyme

⅛

teaspoon

(one pinch) ground white pepper

⅛

teaspoon

(one pinch) onion powder

2

chicken breast halves, boneless and skinless
Instructions
Step 1: Preheat oven to 350° F (175° C).Grease a baking sheet lightly. Take a cast iron skillet and heat it over highheat until it's smoking.

Step 2: Mix the paprika, salt, cayenne pepper, cumin, thyme, white pepper and theonion powder together. Oil the chicken breasts on both sides, using acooking spray. Coat the chicken with the spice mixture, evenly.

Step 3: Put the chicken in the hot skillet and cook for about 1 minute, turn it overand cook the other side for another minute. Then place the breasts on theprepared baking sheet.

Step 4: Place the baking sheet in the preheated oven and bake for 5 minutes or untilthe chicken is cooked through and the juices run clear.