Easy Chicken Bog Recipe
Here we have a simple yet tasty dish for you. This is an amazing dish for beginners. If
you're still unsure of yourself and your skills then exercise your cooking with this easy
chicken bog recipe. As always, you should try new things and experiment with what you have
Most importantly, have fun while you make something; that's all that really matters.
What is Chicken Bog Recipe?
The chicken bog recipe has simple ingredients and you can find most of them lying
around your house. Chicken bog is a pilaf (or pilau as it's called in the UK). Its made of
rice and chicken and typically involves cooking in broth or stock.
As I said, it's quite simple and involves only a few steps. That is the reason I
recommend it for beginners; plus, there isn't much one can do to ruin this dish. It
might not look it, but it's an amazing dish to add to your dinner table. I can't wait to
know what your experience with this chicken bog recipe was like; so please consider
leaving your views in the comments.
The Best Chicken Bog Recipe You'll Ever Try
For a great chicken bog, all you have to do is follow a few easy steps and voilà, a
beautiful dish. As I usually say, read the recipe before you try it; so that you know what
step comes next. This way you can prepare well and there will be less chances of
mistakes.
Why is it called Chicken "Bog" Recipe?
Well, I have a number of theories for this great mystery 😉
The very obvious one is because the recipe is quite "wet". Therefore it is called chicken
"Bog" recipe. Second theory is that it's named because the chicken is "bogged" down in
the soft, spongy rice.
The third theory and the last I'm going to mention here is actually the one I don't like
much; I don't know why but I just don't like it. It's named chicken bog because the
regions where it's popular are very "boggy".
Please let me know if you have any more theories (or don't because it's just a joke and I
think I just took it a little too far). Whatever the reason it's named this way, I like it
anyway and can't wait for all of you to try it.
Not Chicken Perlo!
There are many people who often mistake chicken bog for chicken perlo recipe. I'm sorry all of
you perlo fans out there but this isn't a chicken perlo. There are many reasons to think
that chicken bog is chicken perlo.
Firstly its isn't clear what a chicken perlo actually is. Some of the many versions of
chicken perlo closely resemble chicken bog recipe; that's why it is believed that
chicken bog is a version of chicken perlo and that might be true but we don't know that
for sure.
Anyway, both of these dishes are amazing and tasty in their own way and I love them
both.
Is it Healthy?
Yes, it is. This recipe is one of the most amazing combinations of flavors and healthy
nutrients. For all the people who want a healthy lifestyle without compromising on
their diet, you're welcome.
Pretty obvious but I'll mention it anyway, the chicken adds a healthy amount of protein
and there aren't many calories either. This recipe contains good amounts of fiber as
well, which comes from the rice and the vegetables. In addition to these, there are many
other nutrients to keep your body healthy and safe.
Try this best chicken bog recipe and make sure to try others from our best recipe
collection.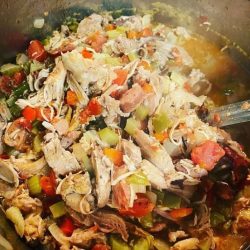 Chicken Bog Recipe
Ingredients
2

tablespoons

olive oil

1

cup

chopped yellow onion

1

cup

chopped carrots

2

teaspoons

Chopped garlic

1 ½

Cup

uncooked long-grain white rice

1

teaspoon

Kosher salt

¾

teaspoon

black pepper

4

cups

chicken stock

1

(4-inch) piece Parmesan cheese rind

4

cups

(about 1 chicken) shredded boneless, skinless rotisserie chicken

3

tablespoons

Chopped fresh flat-leaf parsley

1

tablespoon

fresh lemon juice

1/3

cup

Parmesan cheese, shaved
Instructions
Step 1: Take a Dutch oven and heat oil in it over medium-high heat. Add the onion andcarrots, stir occasionally for about 4 minutes or until it begins to soften. Then addgarlic, rice, salt and pepper. Cook for about 3 minutes or until the rice begin to toastand it's fragrant.

Step 2: Mix the stock in and add the Parmesan rind. Bring it to a boil and reduce heat to low.Cover and let it simmer for about 18 minutes or until the rice is cooked through.Uncover and discard the rind. Stir in the chicken and cook for about 5 minutes, or untilchicken is heated through.

Step 3: Mix in the parsley and lemon juice just before you serve it and then top with the cheese.