Yummy & Easy Custard Recipe
And we're back with another sweet dish. I'm so happy about this recipe, I can barely contain it. Custard has been my favorite sweet dish for as long as I can remember.
Almost on every special occasion, my mother would make some sort of custard dish. I was the hungry bee that always roamed nearby, waiting to gobble it all down. Although, I didn't get to eat all of it; I did grow very fond of every dish that had custard in it.
So you can imagine how excited I am to share this custard recipe with you. This dish has been an important part of my life. In fact, it is the dishes like this that make me love desserts so much. So I really hope you enjoy this fruit custard recipe.
Let's start with History
This Custard recipe doesn't have much in its history. But we can provide a little bit of information. The place of origin for this marvelous dish in the United Kingdom. It is still very popular there.
There is also some evidence that shows custard was very popular in the middle ages. Back then, it was baked in pastries; which are better known as "custard tarts". It is also believed that this is where the word "custard" originated.
Although that's all in its history, there is much more left to discuss.
What exactly is the Custard recipe?
Custard can be many things and sometimes it gets very VERY confusing. So here we are explaining the master-piece that is the Custard recipe. You probably know custard as the powder. That powder is made of milk, sugar, and egg yolk among other things. 
From this powder, you can make the custard. In different recipes, the consistency of the custard may change. Custard with a thin, pouring consistency is called "Crème Anglaise". It can also be pastry cream, which is considerably thicker than crème anglaise. 
And of course, there are the different dishes you can make from the custard. You can make fruit custard like this one, or add plain cake slices to it. You can even make it savory by adding some spices.
Tip Time;
This custard recipe is easy to make and you really don't have to worry about much. The most important part of the recipe is cooking the custard in the milk. You should be very careful during this part and make sure that everything is right.
Most importantly, keep an eye on the flame. If it's too high, the final result will be curdled and that we don't want. By following the recipe card you can easily make a custard recipe with custard powder. Just read the recipe card carefully.
Now, we have to talk about the fruit. You can choose any fruit you like and add them to this dish. Once you've chopped the fruits, chill them in the fridge. This brings out their juices and makes the custard tasty and runny.
What you should Try 
Once you're done with this fruit custard recipe, you can try some of our other desserts. If you're looking for a dish to serve on a special occasion, you should try our King Cake recipe. It had everything guests desire.
If you want something mouth-watering that is easy to cook, take a look at our Fruit Cake recipe. Or you could try the Banana Nut Bread recipe that is sure to make you fall in love with cooking.
Or just try something simple like our Flourless Peanut Butter Cookies recipe. Choose something that puts a smile on your face and just make it. That's really what it's all about.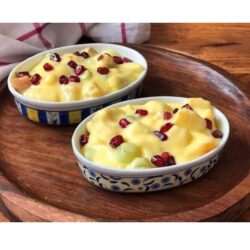 Easy Custard Recipe
Ingredients
2 ½

cups

milk (can use almond milk or soya milk)

3

tablespoons

custard powder

¼

cup

warm milk

4 to 5

tablespoons

sugar

2

cups

or as much as you want Fruits of your choice

1

Medium

apple

½

large mango, ripe

1

medium

banana, ripe

½

medium

pomegranate
Instructions
Step 1: Take a wide thick bottomed pot and heat the milk in it. Add sugar and stir until it is well dissolved. Take a small cup and put in the custard powder along with ¼ cup warm milk. Mix well and make sure the mixture has no lumps.

Step 2: When the milk is hot enough (but not yet boiling), add 2 tablespoons of the custard mixture and whisk well. Once it has been mixed well, add 2 more tablespoons of the custard mixture. Mix it again. Repeat this one more time.

Step 3:Turn the heat down to medium and continuously stir until the custard thickens. To check if it's the right consistency, dip a spoon in the custard. It should be thick enough that it coats the back of the spoon but is still runny.

Step 4:Once it is thick enough take it off the heat and whisk it once more to make it smoother. Cover the pot immediately and let it cool. When it cools down completely, chill it in the fridge.

Step 5:Peel and chop the fruits to bite size and add them to a serving bowl. Whisk the custard and slowly pour it over the chopped fruits. Mix it all gently and serve.
Notes
Step 2 Note:

you can taste test after this step to check if the custard needs more sugar.