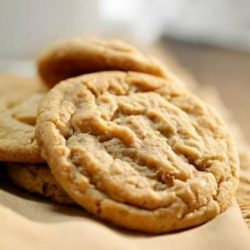 Flourless Peanut Butter Cookies Recipe
Ingredients
1

Cup

Creamy peanut butter

1

Cup

granulated sugar

1

Egg

1

teaspoon

baking soda
Instructions
Step 1: Preheat the oven to 350°F (178°C). Take a baking sheet and line it with a aparchment paper.

Step 2: Take the bowl of your stand mixer (fitted with the paddle) and mix thepeanut butter and sugar on medium speed until they are mixed and lookcreamy. Add the egg and baking soda to the mixture and mix till they'resmooth.

Step 3: Cut the dough into equal parts using a medium sized cookie scoop. Roll thepieces into balls. Put the dough balls on the prepared baking sheet. Press acrisscross design on the dough using a fork.

Step 4: Bake the cookies for 9 to 10 minutes, or until their edges are set. Let thecookies cool on the baking sheet for 3 to 4 minutes before putting them on awire rack to cool completely.You can store these cookies for about 3 days in airtight containers.
Flourless Peanut Butter Cookies
Traditional peanut butter cookies are good, but they can be even better.
How? Easy, just don't use flour and follow the recipe properly. I won't lie
to you, flourless peanut butter cookies are just as good as the "floury"
ones. They're as "peanut butter" as any other peanut butter cookies.
What's special about these flourless peanut butter cookies, is the
addition of butter. Butter makes it easier to use lesser sugar in your
cookie dough. Fewer sugar means, fewer calories and fewer calories mean
more health. And THAT is a good deal. Adding butter, also makes it easier
to handle the cookie dough.
You have to get the dough right! Or the cookies will come out completely
different from what you want. The key is to let the dough rise naturally. If
you try to add flour to the dough, you'll get cookies with little bumps on
top, and let me tell you this "That is NOT good". And, there will be a lot
of air pockets in your cookies, again "NOT good".
To make great flourless peanut butter cookies you should let the dough
develop its natural form rather than adding too much flour of sugar to get
a taste. The flourless peanut butter cookies are delicious on their own and they don't need extra SUGAR!
You should also make sure that you add the ingredients like sugar and eggs
first and mix them. Then you should add the wet ingredients.
The idea to take a cup of warm mixture and roll it between your palms to
make sure that there are no lumps.
Now let's talk about the freshly baked flourless peanut butter cookies….
Sigh. Sorry, got a little carried away. Right, the cookies… so, it's
important that the cookies have the right texture. The key is, again,
getting the dough right.
The peanut butter cookies are supposed to be soft and they taste better
that way. Make sure that you don't over-bake the cookies to get a crunchy
texture. Because, they will be crunchy… and extremely crumbly. Which is
obviously bad.
One more thing to know about using butter in your flourless peanut
butter cookies recipe is that frosting will better stay on the cookies. If
you're a chocolate chip fan, you can also throw in some chocolate chips in
the dough after mixing everything, and you'll have "flourless peanut
butter 'chocolate chip' cookies".
To get the best results, you can use a high-quality double-boiler to make
the dough. Using a double-boiler helps melt the butter easily and there is
less mixing needed.
The recipe for flourless peanut butter cookies doesn't have butter in it.
Instead, it has peanut butter (creamy) and gives a great, moist, and chewy
texture to the peanut butter cookies.
If you wish to make your flourless peanut butter cookies even better, try
adding chips in your frosting in place of sugar. Using chips in your frosting
recipe is better because when you use sugar your chips get hot and your
frosting can melt off.
These are just a few ideas that can help you make great flourless peanut
butter cookies. You can experiment with your recipe for flourless peanut
butter cookies and add tiny changes to bend it to your taste.