Ah yes, sweet sweet cupcakes!!!
It had been entirely too long since I talked about something sweet on this blog. Truth be told, I feel very sad about that. So, I decided to share something special this week to make up for it.
When I was hard at work brainstorming for the perfect dessert recipe, I noticed that I have never shared my favorite vanilla cupcakes recipe.
Cupcakes are really close to my heart. I have loved them for as long as I can remember. One reason for that love might be their delicious taste and my sweet tooth.
But other than that, cupcakes have been a great part of my childhood. You would not believe how many pictures there are of a mini-me playing at baking cupcakes.
Even now, my love for them has not dwindled a bit. I find making cupcakes quite relaxing and fun. Vanilla cupcakes are one of the recipes I am best at.
So whenever I'm feeling low or burnout, I start making some cupcakes to clear my head. And honestly, it does calm me down a great deal.
But enough about me, let's roll up our sleeves and jump into this super-easy vanilla cupcake recipe.
What is so special about this Vanilla Cupcake recipe?
Oh, where do I start? 
There are more than a few things that make this recipe better than any other. 
For instance, the use of whole eggs instead of just egg whites. This small detail makes a great difference in the texture of these cupcakes.
The added yolk makes them much softer and more delicious. 
Then there is the buttercream frosting. It is truly the cherry on top of these amazing cupcakes. 
Take a cold glass of milk with them and there is nothing that can make them any better. 
There is also the ease of making these wonderful vanilla cupcakes. It really gives you the opportunity to practice your basics in baking.
How to Make Perfect Vanilla Cupcakes?
Well, that is quite simple, especially with this simple vanilla cupcake recipe. But still, a few tips can never be amiss. 
The first thing I will tell you after years of baking these cupcakes is, "Remember to mix the batter well but never overdo it." 
That is a mistake I myself made countless times. When I read "Mix Well!", I have an irresistible urge to put my elbows into it and beat "the bananas out of the bread", if you know what I mean.
What you should be doing is gently folding the batter so that all ingredients are incorporated. Once the batter becomes smooth, there is no need to mix.
When you mix the batter just right, you can avoid those dense cupcakes that feel like they are half-baked.
The second thing is to let the cupcakes cool down completely before putting the frosting on them. Hot cupcakes melt the frosting. So better wait than regret it later.
Can I freeze Vanilla cupcakes after frosting them?
Yes, you can.
You just need to put the leftover vanilla cupcakes in an air-tight container and close it carefully so you don't ruin your frosting. Then you can keep them in your fridge for up to 3 or 4 days. 
You can also freeze the frosting in an air-tight container for up to 5 days. The same for cupcakes without any frosting.
Want to learn more about Baking?
To be honest, I feel the best way to learn anything is to do it. When you start it is best to try out some of the simpler recipes before moving on to the more complicated stuff.
If you would like some recommendations on what recipes to try as a beginner, here are a few suggestions: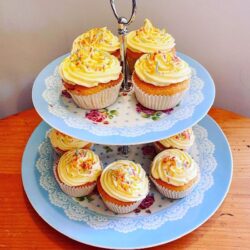 Fluffy Vanilla Cupcakes Recipe
Ingredients
Cupcakes
1 ¼

cups

or about 165 grams all-purpose flour

1 ¼

tsp

baking powder

¼

tsp

salt

6

tbsp

or about 85 grams unsalted butter, room temperature

¾

cup

or about 155 grams sugar

1 ½

tsp

Vanilla extract

2

large eggs

½

Cup

and 2 tbsp milk
Frosting
1

Cup

or about 224 grams unsalted butter, room temperature

4

cups

or about 460 grams powdered sugar

1 ½

tsp

vanilla extract

1-2

pinches of salt

2-3

tbsp

water or milk
Instructions
Instruction for Cupcakes
Step 1:

Start with preheating the oven to 350° F. Prepare a cupcake pan with paper cups (muffin papers).

Step 2:

Mix all-purpose flour, baking powder, and salt in a bowl and set it aside for now.

Step 3:

Take a large bowl and put the butter, sugar, oil, and vanilla extract in it. Beat until the color of this mixture is light and it turns fluffy. This normally takes about 2-3 minutes.

Step 4:

Now add the first egg and mix until it is well combined with the fluffy mixture. Then add the second and mix again. Make sure that all the ingredients are properly mixed. If some are sticking to the sides of the bowl, scrap them down and fold them into the mixture.

Step 5:

Take the dry ingredients that we mixed and set aside earlier and add half of them to the batter. Mix until they are mostly incorporated.

Gradually add the milk, while mixing. When the batter looks kind of curdled add the remaining dry ingredients to the batter and continue mixing until it is smooth.

Note: Do not over-mix the batter. However, make sure that all the ingredients are well combined and there are none sticking to the sides of the bowl.

Step 6:

Now you can fill the muffin papers with the batter. Make sure the cups are not completely filled with the batter. I recommend three-quarters of the cups should be filled.

Step 7:

Now transfer the tray to the preheated oven and bake for 15 to 18 minutes. To check if your cupcake is done, insert a toothpick in its center. If it comes out clean, they are done.

Take the cupcakes out once they are done baking and let them cool at room temp.
Frosting
Step 1:

Put the butter in a large bowl and beat until it turns smooth. Then gently pour about half of the powdered sugar into the bowl and mix again until it is smooth.

Step 2:

Next add the vanilla extract, salt, and about 2 tablespoons of water or milk. Mix until well combined.

Step 3:

Add the remaining powdered sugar to the frosting and mix until no lumps remain. Add a little more water or milk if needed.

Step 4:

Pipe the frosting onto the cupcakes to give them a nice topping, then serve and devour.