Easy Funnel Cake Recipe
This is a little something to turn your "ordinary" meals into an
"extraordinary" party. This is a mouth-watering funnel cake recipe from
me to you as a gift. You've probably seen this cake in a fair somewhere and
thought "Ah, I wish I could have this every day…. But I can't". Well, I'm
sorry to tell you, you were wrong. You CAN have this incredible dish,
whenever you like.

This is probably the easiest cake recipe you've ever tried. That's (partially)
'cause it's not actually a "cake" (but don't worry, it's not like a cheap
knockoff). Funnel cake is the simple batter that's fried till it turns a beautiful golden brown. Yeah, that's all it is and still, it tastes AMAZING!

The first recipe that resembled funnel cake, appeared in Germany. The
"funnel" of its name (isn't a German word for fancy, sugary batter; but,
that's what I thought) was given to it because of the funnel used to pour the
batter. The "cake" was probably given because it had a texture quite like a
cake.
As I said, this funnel cake recipe is incredibly easy and quick to make.
Although funnel cakes are quite simple looking, they're surprisingly tasty.
They have a nice crispy and light texture, that's simply amazing. This cake is
something you get when you throw some donuts and some cake in a blender.
This funnel cake recipe is a treat on its own, but toppings take it to the
next level. There are a number of toppings you can try; like some fruits that
make these funnel cakes healthier and tastier. Add some nicely sliced
strawberries or pineapple, or you can use different berries to add some
beautiful colors to your cake.
OK, that's good; but what else can you add to your funnel cakes. Well, there
are infinite things, but let's not take it that far and talk about some sauces and sprinkles. Chocolate sauce looks (and tastes) just the best with these cakes.

You can also use some Nutella, caramel sauce, or whipped cream (yup,
whipped cream). Put some classic rainbow sprinkles on top, and your funnel cake will look like a donut.
If you wanna go full "party mood" on your funnel cake, then why don't you
try adding some ice cream over it. Classics like vanilla or mint chocolate chip ice creams work nicely. Experiment a little with different combinations of toppings and tell us in the comments which one you liked the most.

You can also make great funnel cakes with pancake mix, it tastes just as
good and isn't that hard to make either. There are plenty of recipes for
funnel cake with pancake mix on the internet and they are all amazing.
Now is the time of tips. Well, this funnel cake recipe is quite simple, so
there isn't much to talk about; however, there are a few things you should
know just to be safe.

First of all, there are plenty of ways to pour the batter. You can use a spouted pot (like in the directions above) or you can use a squeeze bottle, which is way easier to handle. It's all up to you, you can use anything you're most comfortable with (as long as the batter is poured in a nice, consistent
stream).

Also the oil shouldn't be too hot or your cake may fall apart; use the spoon
method in the recipe to make sure the oil is just right. And keep your pot at a safe distance from the oil, not too far; may make your cake fall apart as well.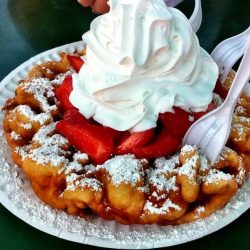 Funnel Cake Recipe
Ingredients
¼

cup

milk

1

egg

1

tablespoon

water

½

teaspoon

vanilla extractd

1

tablespoon

granulated sugar

¾

teaspoon

baking powder

1

pinch

salt

½

cup

all purpose flour

4

Tablespoons

powdered sugar
Instructions
Step 1: Take a bowl with a spout and mix milk, egg, water and vanilla. Once they aremixed; add sugar, baking powder, salt and mix again.Add the flour in the batter and whist until it appears smooth, then set aside.

Step 2: Take a medium, deep sided pan and heat 1" of oil over high heat. Put an endof a wooden spoon in the oil, if bubbles form around it, it's ready. Thenreduce heat to medium.

Step 3: Drizzle the batter in a thin line, and swirl around the pan to makeoverlapping line of batter. Cook until it is golden brown, then flip and cookthe other side until it's golden brown.

Step 4: Dust some powdered sugar over the cake once it cools and serve