Easy Fries Recipe
Every once in a while, I like to cook something out of my diet plan. Usually, that's something sweet (if you know me, you know what I'm talking about). But sometimes, I go for something different, something savory. This time I'm going to share my favorite dish for cheat days. This French fries recipe has always satisfied me when I needed a little spicy snack. And I hope it satisfies you as well.
Best French Fries Recipe
I know you're very familiar with the fries recipe; so I'll keep it nice and short. The potato fries recipe is quite simple. Just strips of potato fried in hot oil, right? Well, it's a little more than that. As you would notice there's a special technique of frying used in this home fries recipe.
This technique is called the "two-bath". In this method, the potatoes are first fried at a low temp, so they are cooked through. Then they're fried again at a higher temperature to give their signature crisp and color. I find this technique very useful and effective.
Baked French fries recipe
Yes, you can simply bake them. You just need to make a few adjustments to your home fries recipe. First of all, preheat the oven to 425°F. Meanwhile; cut, soak and dry the potatoes as instructed in the recipe. Prepare a sheet pan and line it with foil. Also, coat the pan with cooking spray.
Then drizzle about ¼ cup of vegetable oil, sprinkle 2 teaspoons of salt and half a teaspoon of pepper. Mix to coat the potatoes with oil and seasoning. Next, put them on the prepared sheet pan and bake for 25 to 30 minutes or until they're golden brown. Make sure to stir occasionally or they might burn.
This baked French fries recipe is super easy and tasty. Not to mention it's super safe as well. It will taste almost like the classic potato fries recipe. No one will be able to tell the difference.
Some Tips to help you along
There are a few things that helped me when I was trying this fries recipe. And I hope they help you too. The first thing to know when you're buying the potatoes for this French fries recipe; is "Buy Russet potatoes." They are the best for this fries recipe.
Next, what I want to tell you is super important. You need to be very careful while drying your potatoes. If there's even a little water left, it can cause a spattering of the hot oil. Which is obviously very dangerous.
Then comes serving your fries. They're best served hot when they're fresh and crispy. You can serve them with anything, like ketchup, vinegar, or tomato sauce.
More Like This
If you're looking for some more easy snacks and dishes, you've come to the right place. We have some of the best recipes for you.
I know the feeling when all you want is a nice warm bowl of noodles. So my first recommendation for you is our Maggi recipe. It's simple, quick, and most importantly very tasty.
No idea what to make for lunch?
I've got a recipe for you too. Why don't you try out our chicken sandwich recipe? It's a recipe to make those regular old sandwiches memorable. Or maybe you're looking for something sweet. Well, we've got some great dishes for you like my favorite custard recipe. It has everything you look for in a dessert and more.
Or you can check out some of our recent additions like the honey bun cake recipe. It is sure to leave you asking for more. There's more where that came from. So go, see what else you like in our collection, and let us know. ?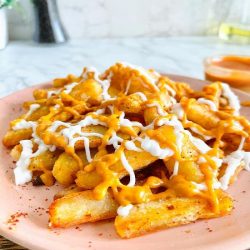 French Fries Recipe
Ingredients
2

½ pounds Russet potatoes
Vegetable oil
Salt and pepper to taste
1 tablespoon chopped parsley optional
Instructions
Step 1:

Wash you potatoes well and cut them into medium-sized sticks. You can either use a knife or a French fry cutter. Make sure they're of same size.

Step 2:

Next you have to soak the potatoes in cold water for at least 30 minutes. Make sure they are fully immersed. After half an hour, drain all the water from the potatoes. Spread them on paper towels to dry them completely.

Step 3:

Take a deep pot and pour 3 inches of vegetable oil in it. Heat it to 300° F. Add around ⅓ of the prepared potatoes and cook for 4 to 5 minutes or until they turn soft.

Do the same for all the remaining batches of potatoes.

Step 4:

Rise the heat to 400° F and put ⅓ of the fried potatoes back in the pot. Cook for 1-3 minutes or until they turn golden brown.

Step 5:

Line a dish with paper towels and spread the freshly cooked fries on them. Sprinkle salt and pepper over the fries. Then serve immediately.