Step By Step Guide How to Make White Chicken Karahi
Want something fresh on your dinner table tonight? I've got the perfect recipe for you.
The BEST white chicken Karahi I have ever tasted! And soon enough it is going to be your favorite as well. The juicy taste of chicken, the warmth of amazing spices, and the texture of heavy cream; what better can you get. 
I am going to teach you how to make white chicken karahi and I hope that it brings joy to your life. As always, I will give you some details about the recipe and a little background. I will also explain how to serve your white karahi the right way. And, I'll sprinkle some more fun facts in there as well.
So, let's dive right into it.
The Roots 
I'll tell you how to cook white chicken karahi in a minute. But first, you must know where this awesome white chicken kadai recipe came from. 
According to some sources, the dish was first made in Khyber Pakhtunkhwa or NWFP. It seems that some other cuisines influenced the white chicken karahi recipe.
The use of a "Wok" for this recipe also signals its history in the sub-continent. This utensil is very common around Asia.
Ok, so now that we are done with that. Let's get started with the tasty part.
How to Cook White Chicken Karahi?
The process is quite simple. To make this amazing chicken white karahi, you'll need a few simple ingredients. 
The Main Ingredient:
The one thing you must have, for a White Chicken Karahi Recipe, is… well, the Chicken. Now, you might be wondering why I wrote bone-in chicken in the ingredients. Wouldn't boneless chicken do fine, as well? 
For this white chicken kadai recipe, bone-in chicken is best. It adds an extra flavor to the dish. That kind of texture and richness is impossible with boneless chicken.
The Flavors:
When it comes to flavors, the most important thing, or things; I should say, are spices. They are the "Beating Heart" of Pakistani cuisine. Especially in this "Desi" white chicken karahi recipe, spices are absolutely essential.
They give, as I said, a desi and natural taste to the white karahi. But even a little mistake with the quantities can ruin your dish. So, add the spices according to the recipe.
The Looks:
Looks are important. You can make the tastiest dishes but if they don't look good, they feel incomplete. That is why we garnish our food. So, they look just as good as they taste.
For the white chicken karahi, green chilies and ginger slices are used to garnish. The chilies provide a nice, natural appearance to the white karahi. The ginger puts in its mouth-watering aroma. So, your karahi smells nice and fresh as well
And yeah, now you know how to cook white chicken karahi. Just one more thing before I let you go and try this awesome chicken white karahi.
How to make white chicken karahi even better?
Remember when earlier, I said that I'd tell you the right way to "serve" this chicken white karahi. Well, that is what I am going to do now. So, pay attention.
This recipe has a strong connection with the tradition of Pakistan. That is why the tradition is a literal part of the dish. White karahi is served with Rotis or Naans. These are flatbreads, commonly found in Pakistan and some other countries as well. 
I love the naans because they have a distinct taste that works wonderfully with this dish. I think you will love them as well.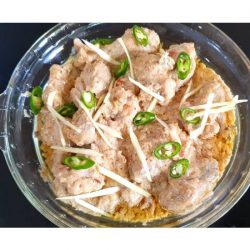 How To Make White Chicken Karahi
Ingredients
3 – 4

tablespoons

oil

1

Chicken (500 grams) with bones
Salt, to taste

½

tablespoon

Ginger-garlic paste

4

green chilies ground to a thick paste

¾

cup yogurt

1

teaspoon

black pepper powder

1

teaspoon

Roasted cumin seeds, ground roughly

1

teaspoon

Roasted coriander seeds, ground roughly

5

tablespoons

heavy cream

1

tablespoon

butter

2

green finely sliced chilies

1

(2-inch) ginger, sliced into thin pieces
Instructions
For this one, you are going to need a wok. Heat the oil in the wok. Add the chicken and fry until it turns golden brown.

Now add the salt, the ginger-garlic paste and green chili paste. You need to cook this for 5 to 7 minutes on medium heat.

While the chicken cooks, take a medium-sized bowl and mix the yogurt, black pepper, cumin and coriander. After 5 or 7 minutes of cooking the chicken, add this yogurt mixture in it and cook for an additional 6 to 8 minutes.

When most of the water has evaporated and you can see the oil on the curry's surface, add the heavy cream and butter. Cook for 1 to 2 minutes, then garnish with green chilies and the sliced ginger.

Serve with a Naan or a Roti and enjoy.