Bring a taste to your mouth that you will never forget. This delicious dark Chocolate Pudding recipe is an extraordinary recipe. Simple yet remarkably tasty. 
The ingredients add subtle details to this amazing dish creating a beautiful blend of flavors that will surely bring water to your mouth.
This is a dessert that you will be remembered for!
A Chocolaty dish for all the Chocolate Lovers out there!
You might already know a little about puddings if you've read our Delicious Ginger Pudding Recipe. Though you should know that this is a completely different pudding recipe. 
Oh, it is quite unique and flavorful, like the last one, but there is no savory twist here. It is just going to be a sweet, luxurious dark chocolate pudding. 
But that is not to say that it will be plain in any way, dear NO. This recipe will stand true to our standards of the best and most unique recipes.
Now, how did I find this recipe, you may ask or you may not; I am going to tell you anyway.
So as always, I was looking for something needlessly extravagant to eat after dinner and found this among some of the best delicacies that I had not tried yet. So I decided it was the time of Chocolate. 
Why try this dark chocolate pudding recipe?
Making this amazing dark chocolate pudding is really quite simple. The ingredients are usually present in any pantry; if not, they are still very easy to find. 
Apart from the ingredients, the cooking itself is quite easy. It only takes about 5 minutes to prepare this dish and requires only 10 minutes to cook. 
So you can enjoy this amazing dessert with only 15 minutes of work. 
This easy dark chocolate pudding recipe flows from one step to the next flawlessly. So following it through will be like a piece of cake.
How to make the most delicious Dark Chocolate Pudding at home?
To make this amazing dark chocolate pudding, all you need to do is follow the recipe. 
First of all, you will need a saucepan. Put all the ingredients in the saucepan, except for the chopped dark chocolate and the butter. 
Start cooking this mixture over a medium to high flame. 
Make sure to stir it continuously, otherwise it might start sticking to the pan and form lumps as well. 
When the mixture starts to simmer, add the chocolate and the butter. Keep mixing continuously, so that it is all well incorporated. 
As this pudding comes to a boil, bring the heat down. Make sure that the flame is enough to keep the pudding at a simmer, not any lower. 
All the while, don't stop mixing. Cook the pudding until it has a nice thickness. Then you can put it away to set in the refrigerator and enjoy this wonderful delight. 
How to freeze dark chocolate pudding?
Here are a few tips that you should know before putting this dish in the fridge. 
Put the chocolate pudding in serving bowls, so it could set in them. This way it looks fantastic. 
Also if you don't want the skin that forms on puddings, cover it with plastic wrap. But make sure that the plastic wrap is touching the surface or the skin will form regardless. 
Then you can pop it in the fridge until it sets. 
And once it's done, you can take it out and decorate it with a few sprinkles and whipped cream or just enjoy it without any more embellishments. It is up to your taste really. 
Our Special Desserts
If you are looking for easy-to-make dessert recipes, you've come to the right place. Here you can try new recipes and sharpen your baking skills with dishes like the honey bun cake recipe. Or you can make a simple yet healthy snack for yourself like the flourless peanut butter cookies recipe.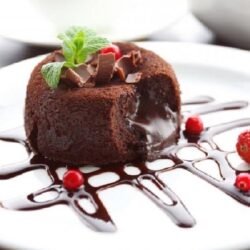 Dark Chocolate Pudding Recipe
Ingredients
2

Cups

of whole milk

½

cup

Sugar

¼

cup

cocoa powder

4

teaspoons

cornstarch

2

large eggs (yolk only)

2

teaspoons

vanilla extract

¼

teaspoon

salt

½

cup

Chopped dark chocolate

2

tablespoons

butter
Instructions
Step 1:

Start with a saucepan, mix milk, sugar, cocoa powder, cornstarch, egg yolks, vanilla extract, and salt.

Cook this mixture over medium heat. Whisk continuously until the mixture starts to simmer.

Step 2:

Add the chocolate and butter to the saucepan. Keep mixing until the whole mixture comes to a boil, then reduce the heat just so that the mixture remains in a constant simmer.

Step 3:

Don't stop mixing until it has a good thick consistency. Pour this pudding into small serving bowls. Cover using plastic wrap and refrigerate for at least 4 hours, so that it is well set.

At last, you can serve this delicacy and enjoy it as you like.