Easy Matar Paneer Recipe
This is a great recipe filled with the goodness of healthy veggies and the mouth-watering deliciousness of amazing spices. The matar paneer recipe is super easy to follow and has a fascinating collection of ingredients that work together perfectly.
With this easy Matar paneer recipe, you can put together an impressive meal. As I always say, if you have any ideas to make these recipes better, please share them with us. We always welcome friendly advice.
What is Matar Paneer Recipe?
Matar paneer is an amazing and wholesome dish, filled with warm spices, peas and of course, the Indian cottage cheese; which is perhaps better known as "Paneer". Paneer is a whole conversation on its own, so I'll talk more about it later.
This beautiful masterpiece belongs to Indian cuisine; which is known for its amazing spices and unique flavors. It is believed that it originated in the regions of North India, but there isn't much evidence to support that theory.
Nevertheless, it was India where this marvelous recipe was born and we are ever grateful for that.
Traditional matar paneer has its tasty combo of peas and paneer along with some other veggies and spices, and that's great. But there are some other ingredients that are added in different regions.
The more famous ingredients that are added in matar paneer are like yogurt, potatoes, corn or even cream to make it a little thicker and well… "creamier". There are other variations of the traditional Matar paneer recipe in different regions of India as well as other countries.
Every version has its own interesting taste and unique texture. Some have more gravy, some are thick, some thin; the matar paneer recipe shows how it has changed for different people in the past decades.
Matar paneer is served with many different dishes and all of them compliment its texture and taste perfectly. However, there are a few more popular ones out of these. Matar paneer is served with Naan, poori, simple roti or Paratha. It is also served with rice.
"Paneer"
Among the veggies, in this easy matar paneer recipe, is the "Paneer", also known as the "Indian cottage cheese". There is, perhaps, more history behind this ingredient of our recipe than any other.
Paneer is quite famous around Indian subcontinent; especially in the countries like Bangladesh, India and Pakistan. It is used in many different dishes like Shahi Paneer, Kadai Paneer, and Malai Kofta, just to name a few. There are a great many things that can be done with paneer.
History of Paneer:
I usually don't talk about the ingredients of any recipe, but this is a special case. Paneer has an interesting history and I just can't leave it be. The modern paneer making methods are traced back to some Persian and Afghan rulers.
They brought paneer to North India in the 16th century and it quickly became famous there. Some great recipes were invented with paneer; this easy matar paneer recipe is one of them. These days paneer is prepared by curdling milk with some fruit or vegetable-derived acid, such as lemon juice.
Is it Healthy?
Absolutely. This matar paneer recipe isn't all taste and no health. You know about the vegetables that go into this dish. These provide healthy fiber that is good for your digestive system. They're also a good source of useful vitamins and proteins.
Other than the greens of the dish there is also the paneer, which is surprisingly healthy. Paneer has some healthy fats and milk proteins that are a great source of nutrition. Also, these nutrients keep your bones, teeth and skin healthy.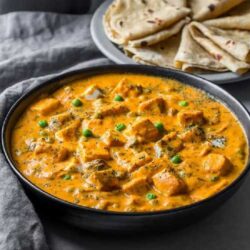 Matar Paneer Recipe
Ingredients
1

tbsp

sunflower oil

1

225 (grams)

paneer, cut into 3cm cubes

1

(2.5cm)

piece ginger, grated

1

teaspoon

cumin, ground

1

teaspoon

Turmeric

1

teaspoon

coriander, ground

1

green chili, finely sliced

4

large ripe tomatoes, peeled and chopped
Frozen peas (150 grams)

1

teaspoon

garam masala
Small pack coriander, roughly chopped
Naan bread, Roti or Rice, to serve
Instructions
Step 1: Heat oil in a frying pan and add the paneer once it's hot enough. Then turn the heat down a little. Keep frying until the edges turn brown, then turn it over and brown the other side.

Step 2: Now, add the ginger, cumin, turmeric, ground coriander and chili in another pan. Fry for about 1 minute, then add the tomatoes. Mash the tomatoes with the back of a spoon. Simmer everything for 5 minutes or until it's fragrant. Then season the mixture well.

Step 3: Add the peas to the pan and simmer for about 2 minutes. Then stir in the paneer and sprinkle some garam masala over it. Top with coriander leaves and serve with naan bread (roti or rice).