This dish will make you fall in love with just a taste. I can say that Dal Makhani Recipe is one of the most incredible Indian recipes that I have tried.
After reading this, you will know exactly why I think that. So let's explore my new (and your soon-to-be) favorite recipe. I will give you some background info about this incredible dish and valuable tips. I will also try to answer some of your most-asked questions. So without further ado, let's look into this delicious Dal Makhani Recipe.
What is Dal Makhani exactly?
For those of you who are not familiar with this dish, here is a quick overview of the Dal Makhani recipe.
It is a popular Indian dish. Its name comes from the Hindi words for Lentils (Dal) and Buttery (Makhani). That makes sense because the recipe has Lentils, Butter, and Cream as its main ingredients.
The Dal Makhani recipe is quite simple. It can be made with a handful of ingredients and is very easy to prepare. It uses a unique cooking method to bring out the mouth-watering taste of its ingredients.
The process is straightforward but can be intimidating at first. The amount of time required to prepare the dish seems too much; trust me, I know.
But after trying to tweak the recipe to make it shorter, I have learned that every single second is vital to the recipe.
You have to trust the process.
Besides that, you will love this incredible Punjabi Dal Makhani Recipe.
Slow Burn is the Best!
The lentils go through a long cooking process in this Restaurant Style dal makhani recipe. First, they must be pressure-cooked to make them nice and tender. Then they are cooked again with spices to give them the signature taste of Indian Cuisine.
This time the lentils simmer on a low flame. This slow cooking is essential because otherwise, the spices will not give the dish its beautiful aroma and taste.
It is best to cut down on some hours by soaking the lentils in hot water to save time. Don't try to raise the flame to make the Dal Makhani cook faster. It will only end in catastrophe.
Helpful Tips to Remember!
Now, let's get to the things you are here for, shall we?
Tenderness
Tenderness is critical for this recipe. After pressure cooking, ensure the lentils are soft enough to be easily pressed into a paste.
Test if they are done or not by pressing one gram or bean between your thumb and forefinger. If it turns into a paste without much effort, the lentils are ready for the next part of the recipe.
Smoking (The "Dhungar Method")
Smoking the Dal Makhani is optional. It might seem simple enough after going through the recipe, but trust me, it is anything but simple.
Be happy with the "Unsmoked Dal Makhani"; it tastes great even without smoking. If done wrong, smoking can ruin the whole dish for you. So, I recommend not trying this if you are new to cooking.
Serving
Serve this incredible restaurant-style Punjabi Dal Makhani with something traditional like Indian Roti, Naan, or steamed rice.
I tried it with Naans, and they tasted excellent.
Mostly Asked Questions about Dal Makhani
Here are the answers to a few questions I found about this Dal Makhani Recipe.
How do I freeze Dal Makhani?

The best way to freeze this dish is to put it in an air-tight container and transfer it to the freezer. And when you need to use it, let it thaw at room temperature. 

To reheat the dish, put it on a medium flame and cook until it starts to bubble. If it seems too dry or thick, add a little water to get it to the right consistency.

What kind of lentils and pulses can I use in Dal Makhani Recipe?

The usual lentils in most recipes are Black Gram and Kidney Beans. However, some variations of the recipe use different pulses.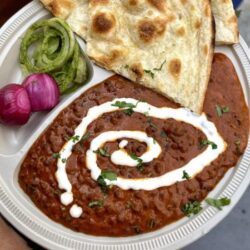 Dal Makhani Recipe
Ingredients
Preparation
1

cup

200 grams Whole Black Gram

¼

cup

(40 grams) Kidney Beans

3

cups

(750 ml) Water for pressure cooking
Dal Makhani
3

tablespoon

Butter (salted or unsalted)

1

tablespoon

Ghee

½

teaspoon

Cumin Seeds

2- 3

Cloves

2- 3

Green Cardamoms

1

Black Cardamom

1

inch Cinnamon

1

small to medium Bay Leaf

½

cup

(50 grams) finely chopped Onions

2

teaspoons

Ginger Garlic Paste

1

cup

(200 grams) Tomato Puree (or 2 large Tomatoes)

1

teaspoon

Green Chilies, chopped (or Serrano Peppers)

2 to 3

pinches

of Ground Nutmeg Powder

½

teaspoon

Red Chili Powder (or Cayenne Pepper / Smoked Paprika)

1

Cup

Water (or as much as needed)

¼ to ⅓

Cup

Low-fat Cream (or 2 tablespoons Heavy Cream)

¼

teaspoon

crushed Kasuri Methi (dried Fenugreek Leaves) – Optional
Salt as required
For Dhungar Method (Optional)
1

small

Piece of Charcoal

½ to ⅔

teaspoon

Ghee
For Garnish
1

tablespoon

Butter (salted or unsalted)

½

tablespoon

Low-Fat Cream – optional

1 to 2

tablespoons

Chopped Coriander Leaves

1

inch

Ginger Julienned – optional
Instructions
Step 1:

Start by rinsing the black gram and kidney beans, draining and placing them in a large pot. Soak both lentils in 3 to 4 cups of water for about 8 hours. To cut the soaking time by half, use boiling water instead.

Drain the lentils well after soaking them and rinse once more.

Step 2:

Transfer to a pressure cooker, add 4 cups of fresh water and cook on a medium flame for 10 whistles. If you are using an instant pot, cook for 20 minutes under high pressure.

The black gram and kidney beans should be very soft when the cooking is done. They should be easily pressed to mush. If they are not tender, add half a cup more water and cook for about 5 whistles.

You can test if the lentils are ready by gently pressing a bean or lentil between your thumb and forefinger. If they are ready, it will be very easy to press the lentils.
The Making of Dal Makhani
Step 3:

Heat butter and Ghee in a heavy-bottom pot and add cumin seeds, cloves, green and black cardamoms, cinnamon, and bay leaf. Saute for about half a minute.

Add the chopped onions and fry till they are slightly golden.

Step 4:

Put in ginger garlic paste. Saute and stir until the raw smell is gone or for about 1 minute.

Next, add the tomato puree and cook for about 4 minutes or until this mixture turns thick.

Add the green chilies, nutmeg powder, and red chili powder. Saute well until the mixture starts to smell good.

Step 5:

Then slightly mash the cooked black gram and kidney beans and add them to the spice mixture along with their stock.

Pour a cup of boiling water and mix well.

Turn the flame down and cook for about 60 minutes. Keep stirring frequently so that the lentils don't stick to the bottom of the pot.

Add ½ cup of hot water and cook on the same low flame for about half an hour. If the mixture turns too thick or dry, you can add another half ½ cup of water to keep it in the right consistency.

Step 6:

Add the crushed Kasuri Methi and the cream. Mix and cook for about 7 more minutes until your Dal Makhani is nicely creamy and thick.

Take the pot off the flame, add butter and stir well.

Serve hot with Indian Roti, Naan, or steamed rice.
Dhungar Method
Step 1:

You can make this dish even better by smoking it to add a little stronger taste.

Take a small piece of charcoal and hold it over direct fire until it is red hot. Put this charcoal in a deep steel cup or a foil.

Step 2:

Keep the cup or foil over the Dal Makhani and pour ¼ teaspoon of ghee over the hot coal. Make sure it doesn't get submerged in the Dal.

Quickly cover the pot and let it smoke for 2 to 3 minutes.

Step 3:

Garnish with butter and cream, chopped coriander leaves, and julienned ginger. Serve with Indian Roti, Naan, or steamed rice.
Notes
Step 1 Note: You can also soak the lentils overnight.