Easy Panera Black Bean Soup Recipe
If you're an American (or a Canadian) you've probably heard of Panera Bread. It's quite famous around here and for good reason. These bakery/café restaurants have given us some of the best foods we could ask for. This Panera black bean soup recipe is a variation of the soup offered by Panera Bread. It's a pretty cool take on the recipe and I think it has a memorable flavor and texture.
So this time, here's what I'm gonna do; I'll talk about the recipe (mostly me obsessing over the way it makes beans sound yummy). Then I'll tell you some things about the company that inspired this recipe, Panera Bread. A few tips to make the recipe better and some more fun facts perhaps.
What is Panera Bread?
It all began with this restaurant, or restaurants I guess. Panera Bread company is spread throughout the United States and Canada, with literally thousands of branches.
Panera Bread was founded in 1987 when founder Ron Shaich decided to merge his cookie store with a bakery. But at that time there was no "Panera Bread", this bakery was called Au Bon Pain CO. Inc.
Soon this small company would be one of the most renowned companies in the United States. As time passed Au Bon Pain was left behind and "Panera Bread" was born. Over these years, Panera has offered some of the most amazing foods. Even today it provides numerous bakery items along with sandwiches, salads, pasta, and of course, soups.
Some time ago, the black bean soup was off the menu of Panera Bread. And that's when I stumbled across this Panera black bean soup recipe and today I tried it again after a long time. So I thought it would be the perfect next recipe for Bitrecipes.
Some Friendly Advice:
Yes, the Panera black bean soup recipe is quite amazing on its own but you know me (if you don't, that's okay too), I always try to take it to the next level. So here are a few ideas to make the perfect dinner with Panera black bean soup recipe.
This black bean soup works great with rice dishes and salads. But you don't know which one of the many (many) recipes will be the best? Don't worry, we've got you, there are some awesome recipes in our collection that will go perfectly with this Panera black bean soup recipe.
With this soup, our tuna salad recipe tastes like a dream. The light texture of the vegetables in both dishes makes it a great combination. And a very healthy combination at that. These dishes have healthy vegetables and thus a great amount of fiber, vitamins, and proteins. It's everything you need for a healthy dinner. If you're in the mood for a rice dish with your black bean soup, you can try out our chicken bog recipe. It's light and wholesome, that's why it will pair beautifully with the black bean soup.
More Like This
If you're a fan of soups then we have some of the best the world can offer. Here are a few soup recipes that will leave you mesmerized.
If you liked our Panera black bean soup recipe, you'd love our manchow soup recipe. It has some great ingredients and a unique combo with noodles.
But that's not all we have, our taco soup recipe will transport you to a fantastic fantasy with its warm, spicy flavors and creamy texture.
I know you already have some great ideas that you wanna realize in your kitchen, so I won't hold you any longer. Go and try out some recipes and if they don't turn out to be what you thought, don't give up, just try again.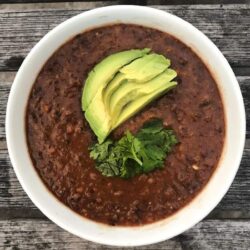 PANERA BLACK BEAN SOUP RECIPE
Ingredients
1

Onion, finely chopped

2

Garlic cloves, minced

2

Celery ribs, finely chopped

1⁄4

large red bell pepper, finely chopped

2

Small chicken bouillon cubes

1 to 1 ½

Cup

Boiling water

2

cans

(15 ounce) black beans, undrained

½

Teaspoon

salt

½

Teaspoon

cumin

½

Lemon, juiced

1 ½

Tablespoons

Cornstarch
Instructions
Step 1:

Take a pot and add the onion, garlic, celery ribs, bell pepper, chicken cubes, and boiling water. Simmer this mixture on medium heat for 10 minutes.

Step 2:

Then add half a can of black beans to the mixture. Also, add salt and cumin, then cook for 5 minutes.

Step 3:

Use an immersion blender to puree the soup, then add the rest of the black beans to the pot.

Step 4:

Combine cornstarch and 1 ½ tablespoon of water. Next, add the lemon juice and cornstarch to the soup. Cook until it's thick enough.