Easy Russian Salad Recipe
It's been a long time since I tried a Russian dish. So for today, I thought of a simple and quite well-known recipe. This one caught my eye at once because it has a very interesting story. And of course, I loved cooking it. It was a nice experience. It was pretty easy to make and I would never forget that amazing taste.
I'm sure most of you are familiar with the famous Russian salad recipe. Maybe you've tasted the dish before somewhere or heard of it from a friend. And now you want to try it for yourself. Well, that's what we're here for.
Wait, What's that?
You might have noticed something strange about this recipe. There's a word written as the course of this dish (Zakuski), but you have no idea what it means.
That's how I reacted when I heard the word for the first time as well, so don't worry you're not alone. After some research, I found out what that was all about.
Apparently, Zakuski is a Russian tradition of sorts. It's a course with snacks of different kinds which are very famous in Russian culture. It's like the first course but with simple snacks like the Russian salad. So yeah, now you know when to serve it.
What is the Russian salad recipe?
It is a very famous Russian dish. Its popularity is due to a number of reasons. First of all, it's a very unique and tasty dish on its own. Then there's the traditional value of the dish. It has been around for almost two centuries and has become an important part of Russian culture.
The Russian salad is very popular on New Year's Eve and Christmas dinners as well. Even around the world, it's enjoyed on these occasions. But that's not all, Russian salad is a favorite at parties and weddings too.
However, that doesn't mean it's just for special occasions; you can have it anytime you want.
What's the Story?
As I said, one of the reasons I chose this recipe is because I love its story. It's an interesting tale of the origin of the original Russian Salad Recipe.
In the 1860's, Lucien Olivier; a Belgian chef at Hermitage (a well-known restaurant in Moscow), made the very first Russian salad recipe. The salad quickly became loved and boosted Hermitage's popularity even more.
The recipe for the salad was a closely kept secret, so no one knew exactly what made it so amazing. Some ingredients could be guessed but still, the most important ones were missing.
So once the second in command of Olivier, Ivan Ivanov, tried to steal the recipe. Let's just say that he failed to guess all the ingredients correctly.
Although he did make a variation closest to the original recipe, it was not the real deal. There was something missing in the dressing, and that made a huge difference. So that poor guy didn't get as much attention.
His betrayal was soon discovered and even his version was named "the Olivier Salad". So he got what he deserved.
Let's talk some Tips
There must be some of you who are looking for a vegan version of the recipe, the first tip I have is for you guys. All you need is to replace the chicken with boiled and diced potatoes or paneer. You can also add different fruits and vegetables according to your taste.
You can also make it healthier by using coconut or soy milk to thin it before serving. Speaking of healthy, you should definitely try our chicken salad sandwich recipe. It has everything you need for lunch.
If you need an idea for dinner, you can also check out our recent stew fish recipe.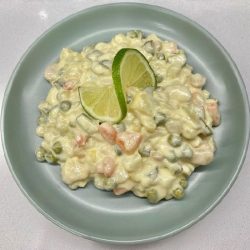 Russian Salad Recipe
Ingredients
300

grams

Chicken

1

tbsp

Vinegar

1

tablespoon

Vegetable oil

½

cup

Peas

2

Medium diced carrot

10

Chopped green beans

½

Medium Green Capsicum, Cubed

1

100 grams

Sliced pineapple
Salt & Black pepper, as required
TOPPINGS
¾

cup

Mayonnaise

¼

cup

Fresh Cream

1

tablespoon

Cheese spread
Instructions
Step 1:

Firstly, wash the chicken and drain the excess water. Then take a pressure cooker and add the chicken with ½ cup water and ½ teaspoon salt. Pressure cook for about 1 minute, then simmers for 1 or 2 minutes over low flame. Then switch off the flame.

Step 2:

Let it cool and then shred the chicken into small pieces. Put these pieces in a bowl, add 1 tablespoon vinegar and 1 tablespoon oil. Then keep it aside for about 15 minutes.

Step 3:

Boil 2 cups water and ½ salt in a deep pan. Add the peas, beans, and carrots into the boiling water. Boil for 1 more minute and take it off the flame. Strain the water from the pan, add cold water, and strain again. Set these aside for now.

Step 4: Read Note Below

Mix the mayo, cream, cheese spread, salt, and pepper. Also, chop the pineapple slices finely and keep them separately.

Step 5:

Add the shredded chicken, the chopped pineapple, and all the veggies to the mayonnaise. Mix it well and adjust the seasonings if required or if you just want it spicier. Then serve it spicy.

Note: Add some milk if the salad is too thick.
Notes
Note:
If you're using canned pineapple slices squeeze them to remove the juice before chopping.