Delicious Stew Fish Recipe
I've never been to Jamaica or even anywhere near the Caribbean Islands for that matter. Although, it's definitely on my bucket list for a ton of reasons. First of all, it has the most incredible views I've seen. I mean, who could resist that ocean, right?
And I'm a big "Pirates Of The Caribbean" fan, it has been my dream to visit the locations since the first movie came out. Then there's the food, all I will say about that is, "It is beyond words".
That was my inspiration when I thought of today's recipe. I wanted something that would represent why I love the Caribbean and after a tiring search, I finally found the perfect dish. The Stew Fish recipe.
What do I see in this Brown Stew Fish Recipe?
As you now know, it is from one of my favorite places in the world. The Caribbean has always delivered in terms of mind-blowing dishes. Especially the Jamaican cuisine, it has everything I love about food; more specifically, dinners.
This stew fish recipe belongs to this cuisine as well. This brown stew fish recipe carries everything great about Jamaican cuisine. That's one of the reasons I chose this recipe today as well.
This recipe has the well-known taste of fish mixed with a savory sauce. The simple spices, that are a staple of Jamaican cuisine, lift this dish to a new height. It has the perfect combination of a little sweet, a little spicy flavor. I mean, what is not to love?
What makes Jamaican Cuisine special?
Well, there are many things. Some tiny details and some more prominent ones. The one thing that sets it apart from the many cuisines is that, well it has a little of all the important cuisines. So basically, it is a mixture of many cuisines.
Its cooking techniques were influenced by many well known cuisines from around the world. It took tips from Irish, African, French, Spanish, Chinese, Indian, Portuguese, English, and many more.
Moreover, it was also shaped by the availability of different ingredients. Many spices, vegetables, and fruits were introduced to the Caribbean Islands from around the globe. This gave the cuisine an opportunity to grow and diversify.
Seafood, which is quite abundant around the Caribbean, gave it another layer of diversity. Like this brown stew fish recipe, fish and other seafood have become a popular part of this cuisine.
Some Tips to help you along:
There aren't many things that you need to know about this recipe. It is pretty straightforward. But, one can always use some help with cooking. So here are some tips you can use.
In the directions, you are told to dry the fish before frying it. This is to make it easier and safer to cook. When you try to fry wet fish in smoking hot oil, the oil might splash and that can be really dangerous. So to avoid any potential injuries, you should dry the fish and fry carefully.
This next one is very important. What kind of fish should you use for this stew fish recipe?
Well, any fish would work fine as long as it doesn't crumble to pieces as soon as you try to fry it. But there are a few popular ones for this brown stew fish recipe, like Barracuda and Snapper.
These should get you through this recipe smoothly, so let's move on to some more recipes you can try.
What Else do we have?
After you're done with the stew fish recipe, you might wish to add a few more spicy dishes to your collection. I recommend these masterpieces :
And,
Hope you enjoy our recipes.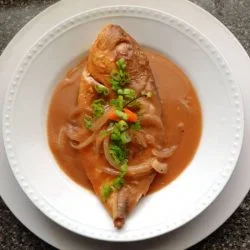 Stew Fish Recipe
Ingredients
To Wash The Fish
1

Lemon or lime

1

teaspoon Vinegar
To Cook The Fish
Salt, to taste

½

teaspoon Black pepper

1

(Near 910 grams) Fresh fish

¼

Cup Cooking oil

1 ½

Scotch bonnet peppers

8

Pimento berries (allspice)

5

Garlic cloves (2 crushed and 3 chopped in half)

1

Stalk scallion, chopped

2

Small tomatoes, diced

1

Bell pepper, chopped

1

Small onion, chopped

3

Sprigs fresh Thyme

1

Cup

Water

1

tablespoon

Browning sauce
Instructions
Step 1:

First of all, you have to wash the fish with lemon (or lime) and vinegar. After the fish is washed, drain any excess water. Then mix ¾ teaspoon of salt and half a teaspoon of black pepper. Rub this mixture all around the fish.

Step 2:

Take a frypan over high heat and put it in the cooking oil. Add the garlic that you chopped (not the crushed ones), the whole bonnet pepper, and 5 of the pimento berries. Next, add the fish and fry on both sides until it turns golden brown.

Step 3:

After the fish is fried, take the pan off the flame. Carefully remove the fish, pepper, garlic, and berries from the pan. Then pour the oil out, until only a tablespoon of it is left in the pan.

Step 4:

Put this frying pan over low flame and add the chopped bonnet pepper, the rest of the pimento berries, the crushed garlic, scallion, the chopped tomato, bell pepper, onion, and thyme. Sauté this mixture for 2 to 3 minutes.

Step 5:

Add a cup of water and the browning sauce to the mixture. Stir this sauce and cover the pan. Leave it to simmer for about 5 minutes then add the fish and pour the sauce over the fish using a spoon. Cover again and let it simmer for 5 more minutes.

Then it is ready to serve.
Notes
Note from STEP NO 3: Keep the fish ready, it will be used again later.