Yummy Taco Soup Recipe
From the streets of Mexico, I bring you a delicious treat. This is the best
taco soup recipe to complete your dinner. Taco soup is said to have
originated as a "soup" version of the taco recipe. So if you like tacos, you're
definitely going to love this recipe for taco soup.
Taco soup has all the ingredients you find in a taco and tastes just as good.
The most important ingredient, in both the tacos and the taco soup recipe, is
the seasoning. Without this component, the soup is incomplete. In fact, not
just incomplete, it's not even a soup.
Hope you get the importance of the seasoning in this taco soup recipe
from that. You can use store-bought seasoning, but I personally think it's
better to use a nice homemade seasoning. It's easy to make and gives that
"homemade" goodness to your soup.
If you want a little more spice in your taco soup recipe, you can use some jalapenos or cayenne peppers. word of advice… don't use too much pepper or you'll be breathing for like a
"dragon".
Just as the seasoning, the vegetables are important too, because they are the
healthy part of the recipe. They are healthy and full of fiber, proteins, and
many other nutrients. If you don't have the vegetables given in the recipe;
don't worry, you can use any vegetables you have available.
Are the beans replaceable too? If that was a question in your mind, here is the answer. You can use black or even kidney beans in this easy taco soup
recipe. Canned beans are not essential for the recipe either, use any
"uncanned" beans you have. Just remember to rinse and drain them well.
Out of beef? Well, I have the remedy for that too. You can use ground turkey
or chicken. Just brown, drain the fat, and add the other ingredients
according to the recipe.
The recipe calls for Rotel tomatoes, but I understand that sometimes it can
be a little hard to find them. So, just use canned tomatoes and it'll be just
like Rotel. Just make sure that they are diced and don't drain the juice from
the tomatoes. Without the juice, they won't be as good as the Rotel
tomatoes.
The green peppers are great, not just for the spice, but also for the beautiful
and natural look they give to the soup. You can use half a cup of small green
peppers if green Chile peppers aren't available. Again, DON'T use too much
or even a whole fountain won't be enough to relieve you.
Now that I have replaced almost all the ingredients in the taco soup
recipe, let's talk about some toppings. Sour cream, salsa and avocado are
among the most popular toppings. Use a little cheddar on top of these and
you'll have a perfect dinner.
You can also serve the taco soup on any special occasion, like a party. Serve
different toppings on the table as well, so the guests can use the toppings
they prefer. Avocado, sour cream, and salsa will be the obvious choice but other than that, you can serve green onion, guacamole, cilantro, fresh
tomatoes, and sliced jalapenos.
Now that we're talking about parties, let's shed some light on how to freeze
the taco soup in advance. You can make some extra soup before a party and
freeze it to use later. Put the taco soup in an airtight container and freeze. It
will last a few days in the fridge. When you need to serve, heat on a medium flame for about 2 minutes and serve with some crispy tortilla chips (if you feel like it). It'll be a fresh and tasty savory dish for you and your guests.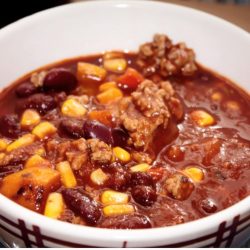 Taco Soup Recipe
Ingredients
1

pound

454 grams ground beef

1

onion

2 ½

cups pinto beans, drained and rinsed

10

ounces

(282 grams) Ro-tel tomatoes

8

ounces

(227 grams) tomato sauce

4

ounces

(112 grams) green Chile peppers

2

cups

beef broth

¾

cup

frozen corn

⅓

cup

green pepper

1

package

taco seasoning mix
Instructions
Step 1: Take the ground beef and onions in a large pot and cook until it's brown.Drain excess fat (if any).

Step 2: Add the beans, tomatoes, tomato sauce, green Chile peppers, beef broth,frozen corn, green pepper and the taco seasoning, bring to a boil. Reduceheat and simmer for 15 to 20 minutes.