Delicious Pulao Recipe For You
This one is a rice dish you'll never let go of. It's easy, quick, and most importantly "delicious". It is made with ingredients that are easy to find, so you can make it any time you like. These ingredients are amazing and bring out the exquisite flavors of this Pulao recipe.
Pulao sounds a little familiar, doesn't it?
That's because we have talked about it before, but at that time we called it "pilaf". Yes, you guessed it right, it was in our Chicken Bog Recipe. Like chicken bog, there are many variations of the pulao and this Tawa pulao recipe is one of them.
A Little more on the Pulao Recipe
Although we talked about pilaf (or pulao, whatever you want to call it), there are a few more things about this famous rice dish that you should know. Pulao, actually, refers to a collection of dishes.
These recipes usually have rice that is cooked in water, broth, or stock. Then some spices and additional ingredients are put in to make it more flavorful. Almost all of the pulao dishes follow this method, however, different ingredients may be added in different versions.
There is an interesting history behind this recipe and throughout the years it has changed and evolved into something better. However, that also means its names have changed as well. So before it gets confusing, allow me to explain what's the deal with the many names of pulao.
Names Of Pulao
This veg pulao recipe is just one of the many great dishes that go by the name of pulao. There is a long history of these dishes and their travel throughout the world. And as their journey progressed, their names changed to suit the region they reached.
You will find that all the names are somewhat similar in one way or another. That's one way you can trace their origins. Although, the names like pulao or pilav seem to show Indian origins. That's not the case, the oldest word for these dishes actually came from Persian languages.
After that, there is the "pilav" from Turkish. This word gave us the names we know, like "pilaf". There are also the Hindi and Sanskrit words that gave rise to other names like "pulao or pulaav".
You didn't think that was it, did you? No, it's far from it. There are many more names that can be discussed, but let's leave them for some other time.
There's more to It
THAT was just the history of the names but there's a lot more history behind this amazing Tawa pulao recipe. Don't worry, I'm just gonna talk about some interesting events. Not going to fill your tummy with history.
As you might have already figured out, the pulao recipe has been around for a long, LONG time. The earliest documented evidence of this recipe came from the tenth-century scholar, Avicenna. So, long story short, this dish is OLD.
One interesting event was in the 4th century BCE. It is said that Alexander and his armies were so impressed by the pulao recipe that they brought it back to their country when they returned. That's how amazing this dish is.
A few Tips
Basmati rice is the most recommended for this veg pulao recipe. That's is because they remain nice and separate after cooking. Make sure to rinse your rice well before using it to remove starch. Also do not add too much water while cooking the spices. Otherwise, the rice will turn out to be soggy and sticky.
After this recipe, you can also try another amazing rice dish, the biryani recipe.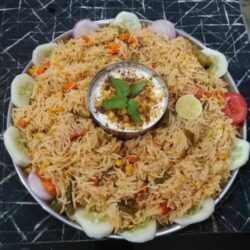 Tasty Pulao Recipe
Ingredients
1 ½

cups

cooked rice

2

tablespoon

butter or oil

1

teaspoon

cumin

½

cup

onions chopped

2

teaspoon

Ginger Garlic paste

1

large ripe tomato, chopped
Salt as needed

1 ½ to 2

tablespoon

Pav Bhaji masala

1

teaspoon

red chili powder or paste (optional)

½

cup

capsicum chopped

1 to 1 ½

cup

vegetables steamed or boiled and cubed, (potato, carrots, beans, peas)

4

tablespoon

Water
Coriander leaves for garnishing
Instructions
Step 1: Heat butter (or oil) in a pan and put in the cumin. Sauté until it begins to crackle, then add the onions and sauté until they turn translucent. Add the Ginger Garlic paste and fry till it's fragrant.

Step 2: Then add tomatoes and salt to this mixture and keep frying till the tomatoes are soft and mushy. Now add the Pav Bhaji Masala and red chili powder (or paste). Put in the capsicum and sauté for 2 more minutes.

Step 3: Add 2 tablespoons of water. Then cook this mixture until the water is evaporated. Add the boiled (or steamed) vegetables and mix everything together. Then gently stir in the cooked rice.Then garnish with coriander leaves and serve hot.