The Best Malai Kofta Recipe to show off your cooking at family dinners. This recipe is perfect for Cooks trying something a little out of their comfort zone. It is also a brilliant idea for those who just want to plan a good party and make something unique to impress their guests.
This recipe has quickly become one of my personal favorites. Its signature Indian scents draw you in before it even touches your lips. After one taste you are sure to fall in love with the creamy perfection that is this Malai Kofta Recipe.
Today, I am going to share with you what I learned from trying this amazing recipe. And perhaps give you some tips to make a perfect malai kofta. I will also try to give you some information about the culture of this dish and what makes this dish so special.
What is Malai Kofta?
Malai Kofta is a mouth-watering dish from Indian Cuisine. This dish carries a combination of sweet and savory flavors that make it an extraordinary meal. Its name points to its defining components. 
Malai is Hindi for Cream, which is a nod to the creamy texture of its gravy. The second component that makes up the Malai Kofta recipe is the Kofta, which is basically a fried ball stuffed with a filling of some sort (in this case cashew and raisins).
Koftas can be of many types, they can be completely vegetarian as in this recipe, or stuffed with things like ground meat.
The fillings can vary greatly, they can be dried fruits, made of some veggies, or a combination of veggies and meat.
This gives us a lot of room to change the recipe to fit our individual tastes. You can experiment with some of your favorite fillings to find the one that fits perfectly with this dish.
What Should You Know Before Trying This Malai Kofta Recipe?
Making a dish is not just about following a recipe, it is about knowing the tricks to make the recipe as smoothly as possible. 
Well to help you out with this amazing Malai Kofta Recipe, I have compiled a few tips and tricks that helped me when I was trying this recipe for the first time.
Let's talk about Cheese, shall we?
In this recipe, you are advised to use Indian Cottage Cheese to get the original taste of this dish. It will be even better if you could make it yourself. The recipe is quite simple actually and you can find it anywhere on the internet.
Why are My Koftas Falling Apart?
This is one of the most common problems people face when trying this recipe. The trick to overcoming this situation is quite simple. 
First of all, you should not throw all your koftas into the oil at once. Always check first. Take one Kofta and put it in the hot oil to see if it opens up and spills all its fillings into the oil. It also helps you determine if the oil is hot enough. I've shared that trick in the recipe card. 
If your Kofta does fall apart just use a binding agent. Mix 1 or 2 tablespoons of cornflour into the Kofta dough and then wrap the filling with it. This should hold your koftas together. 
Substitutes
If you are allergic to nuts you might find this recipe a delight you can't have. Well, worry not, because we are going to teach you how to make Malai Kofta without nuts.
You will have to change two ingredients in the recipe to make it completely nut free.
The almond flour can be changed with 2 tablespoons of milk powder. And the fillings… well, they were never a problem. You can just add your favorite nut-free filling and voila, a perfect Malai Kofta for your Dinner.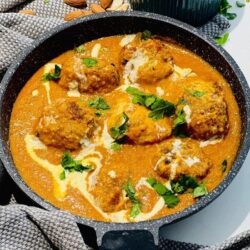 Malai Kofta Recipe
Ingredients
Koftas
1

cup

(100 grams) grated Indian cottage cheese

2

Boiled potatoes, peeled and grated (200 grams)

¼

teaspoon

red chili powder

2

tablespoons

cornflour or cornstarch

¼

teaspoon

Garam Masala

3

tablespoons

almond flour

salt as required

oil for deep frying, as required
Stuffing
10 or 15

cashews

1

tablespoon

raisins
For Gravy
3

tablespoons

oil

1

Indian bay leaf

1

inch

cinnamon

1

black cardamom (optional)

2

green cardamoms

2

single strands of mace

2

cloves

½

cup

onion paste

2

teaspoons

Ginger Garlic Paste

1

cup

Tomato Puree

¼

teaspoon

turmeric powder

¼

teaspoon

fennel powder (optional)

¼

teaspoon

cumin powder

1

teaspoon

red chili powder

1

teaspoon

Coriander Powder

¼

teaspoon

Garam Masala

6-7

tablespoons

Cashew paste

½

1 teaspoon sugar or to taste

salt as required

2

cups

water

1

teaspoon

dry fenugreek leaves

2

tablespoons

light cream (optional)
For Garnish
1 to 2

tablespoons

grated cottage cheese (optional)

1 or 2

tablespoons

light cream or whipping cream (optional)

2

tablespoons

chopped coriander leaves or a few mint leaves
Instructions
The Koftas:
Mix the following ingredients in a large bowl: grated cheese, grated potatoes, red chili powder, cornflour, Garam Masala, almond flour, and salt.

Take a little of this mixture and gently roll it between your palms to make it into a ball. If the mixture is sticky, rub some oil on your palms.

Rinse the Cashews and Raisins, then chop and set them aside.

Note: These Cashews and Raisins will be the stuffing for the Koftas in this recipe. They are completely optional, you can skip them if you like.

Gently flatten one of the Kofta Balls with your hands and place some of the stuffing on it.

Enclose the stuffing within the flattened ball and roll it again to a nice ball. Make the rest of the Koftas in the same way.

Note: Make sure that the stuffing does not leak out of the dough. Don't make the balls too thin when flattening them to ensure the stuffing remains safely inside the Kofta Dough.

When ready, cover the Koftas and set them aside at room temperature.
The Gravy:
Take a heavy-bottomed pan and heat 3 tablespoons of oil for the gravy.

Add the following and saute until the spices crackle and give out their scents: Indian Bay Leaf, cinnamon, black and green cardamom, strands of mace, and cloves.

Then add the onion paste and a pinch of salt to this pan. Stir frequently and fry until the paste turns golden.

Next, add the ginger-garlic paste and saute until its raw smells go away. Then add tomato puree and continue frying for around 7 minutes on medium heat.

Add turmeric powder, coriander powder, fennel powder, red chili powder, garam masala powder. Mix and continue to saute while stirring often.

After around 5 minutes of frying, add the cashew paste. Stir well until the mixture starts to release oil.

All the while keeping the flame medium to low, continue to saute. When you see the oil releasing, add the sugar and salt according to your taste.

Add 2 cups of water and mix well. Simmer on medium to low heat until the gravy thickens. This typically takes around 10 minutes. The gravy is supposed to have a medium-thick consistency.

When the gravy is done, some oil will start to appear on the surface. Then you can turn off the heat and sprinkle the crushed fenugreek leaves and cream on the gravy.

Mix the gravy well and then set it aside.
Frying the Koftas:
Heat the oil in a deep frying pan.

Check if the oil is hot enough by adding a small piece of the Kofta to the oil. If it comes to the surface quickly and does not go brown at once, then the oil is ready.

When the oil is hot enough, add the Koftas to the pan carefully. When one side of the Kofta turns nicely golden, gently turn it over and fry the second side until it is just as golden as the other side.

When the koftas are equally golden on both sides, remove them from the pan and place them on a paper towel-covered plate. The paper towel will absorb any excess oil from the koftas.
Serve:
Serve immediately by simply adding the fried koftas to the gravy and garnishing with grated cheese, cream, and mint leaves.

You can also serve it at a later time, but then you can't place the koftas in the gravy. Keep the gravy and koftas separate until you are ready to serve.

Heat the koftas in the microwave, and heat the gravy on low heat. If the gravy seems too thick, add a little more water.

Then place the koftas in the gravy just before serving, garnish, and serve.

Serve with the Traditional Indian roti, naan, steamed basmati rice, or jeera rice.