Easy Gobi Manchurian Recipe
This one caught my attention as soon as I laid eyes on it. This Gobi Manchurian
recipe is unique and comes together perfectly. It has simple ingredients and processes,
along with a divine taste.
It might seem a little intimidating at first, but once you try it, it's going to be your
favorite for sure. Another thing you may find interesting about this recipe is its history
which gives a simple but important lesson. As always, your comments are much
appreciated and we hope to see more of your reviews; they really help us out.
Delicious Gobi Manchurian Gravy
Can't wait to talk about this one, especially the variations, because they could be great
inspirations for beginners like us. Not only that, there are many other things to learn
from this easy gobi Manchurian recipe.
Care for a Manchurian?
Before we talk about the Gobi Manchurian recipe, we must know a little about
Manchurian itself.
We have all heard of the term "Manchurian" at least once (if you haven't, don't feel bad
about yourself, we all have things we don't know about). When I first heard the word
"Manchurian", I don't know why but I burst into laughter. I still have no idea why I find
this word so funny.
Anyway, I didn't even know it was a dish until I found it on the internet. Then I found
its recipe a few days back and as I had nothing else to cook, I tried it out and absolutely
loved it.
Manchurian is not actually a single dish. In fact, it's a group of dishes that belong to the
Indian Chinese cuisine. All variations of Manchurian have relatively similar cooking
methods, however, ingredients may vary.

We can divide the Manchurian into two basic types: the vegan Manchurian and the
non-vegan Manchurian. This "Gobi" Manchurian recipe is obviously a vegan variation
of Manchurian. In case you were confused by the word "gobi", it's an Indian word for
"Cauliflower".
This quick and easy Gobi Manchurian recipe is very famous in various regions of India and is loved
even in other countries too.
A Brief History
Well, I want to share the full history of this dish According to some historical information, what is thought to be the first recipe of Manchurian was developed by a cook, Nelson Wang. He was in India when he was
asked to make something new by a customer. Manchurian was what he ended up
creating and that's how a new recipe was born.
What is exciting about this incident? Mr. Wang here created a beautiful dish that was
inspired by two cuisines; Indian and Chinese. That's amazing because this dish became
a staple of Indian Chinese cuisine and is famous in many countries. It shows the
creativity of the chef and how he used what he had to make something special.
What you should know?
There are a few things you should keep in mind before you jump into this easy Gobi
Manchurian recipe. First is how to effectively clean up the florets before any actual
cooking begins. It's quite easy actually; you just have to put some salt in water, heat
said water, and soak the florets for 15 minutes or so.
Next, we have the batter. You should be careful while preparing the batter. It should be
the right consistency; not too thin or too thick, but somewhere in the middle.
As we're talking about the batter, you should careful while coating the florets. They all
should be evenly coated. Also, you should fry the florets in little batches (as mentioned
in the recipe card). This way the florets will cook properly.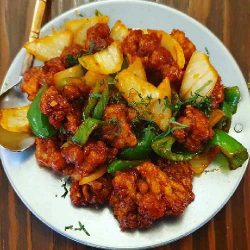 Gobi Manchurian Recipe
Ingredients
For Florets
½

Cup

Corn Flour

5

Tablespoons

all purpose flour

1

medium size Cauliflower (broken into medium size florets)

½

Teaspoon

Garlic Paste

½

teaspoon

Ginger Paste
Oil (for deep frying)
Salt Custom Water

½

cup Water
For Sauté
2

tablespoons

Cooking Oil

1 ½

teaspoons

Garlic Paste

2

teaspoons

Ginger Paste

2

Green Chilies, finely chopped

1

Large Onion, finely chopped

1

Small Green Capsicum, finely chopped

1 ½

tablespoons

Soy Sauce

½

tablespoon

Chili Sauce

2

tablespoons

Tomato Ketchup (or tomato sauce)

2

tablespoons

Spring Onion, finely chopped

Salt, as required
Instructions
Step 1:

Boil the cauliflower florets in salted water on medium heat for 3-4 minutes. Then drainexcess water and dry the florets using some tissue paper.

Step 2:

Take a bowl and mix the all-purpose flour, corn flour, ginger paste, garlic paste andsalt. Add water gradually while stirring to make a batter. Once it is ready add the floretsand mix well.

Step 3:

Take oil in a fry pan and heat over medium heat. Carefully put about 6-8 the florets inthe hot oil and deep fry until they turn golden brown. Place some tissues over a plateand transfer the fried florets on it. Do the same with the remaining florets.
For Sauté
Step 4:

Take a wide thin-bottomed pan and heat 2 tablespoons of oil. Then add ginger paste,garlic paste, chopped green chilies, capsicum and onion; and fry for 3-4 minutes.Add the soy sauce, ketchup, chili sauce and salt. Mix continuously and cook for anotherminute.

Step 5:

Add the fried florets and mix well for about 2 minutes, while keeping the heat high.Then transfer to a plate, garnish with spring onion and serve it hot.