Soft and Easy Mysore Pak Recipe
The Mysore Pak recipe might seem too simple on the outside, but trust me there is a
lot hidden behind its noble appearance. This soft Mysore Pak recipe has a great
story behind it and an even greater taste.
It's been a while since I made a sweet dish, and I can't go this long without something
sweet. So, here's a super simple dessert called Mysore Pak. To some of you, the name
might seem a little "outlandish", and that's natural because we don't often come across
this dish.
As I said, it's SUPER simple and quick to make. There are just a few ingredients and
the steps are quite easy as well.
As always feel free to share your thoughts in the comments (just keep them polite,
please). We really appreciate your support and wish to bring you great recipes to help
you as much as we can.
What is a Mysore Pak?
I'm sure a lot of people are asking this question. Mysore Pak is a sweet dish from India.
This delicious dessert is loved in many countries because of its sweet taste and soft
texture. You can compare it with a dense, buttery cookie with a good amount of sugar.
"Mysore", in the Mysore Pak recipe, stands for the city of Mysuru where the recipe
was invented. The "Pak", comes from "Paaka" which literally means "extreme sweet".
Paaka is a sticky sugar syrup that is used in the recipe. In some variations of the
Mysore Pak recipe the syrup is flavored with cardamom, rose or even honey.
Mysore Pak is traditionally served in special occasions such as weddings. They are also
quite famous in other festivals of Southern India. They are usually cut in cube or
rectangular shapes but you can cut them into any shape you like.
The Story Behind The Recipe
There is an interesting story behind the ghee Mysore Pak recipe. As you know, the
the dish was first made in Mysore (or Mysuru), which is a city in India
The King of this city was… well, he was obsessed with food (he was like a food artist).
He had great kitchens to prepare various offerings for the temples in the Palace.
So anyway, the Mysore Pak recipe was invented by the King's chief chef. One day he
didn't make any dish to offer in the temple. He didn't have much time to make
anything he knew. So instead, he began experimenting with some ingredients to make a
quick dish.
He put together a dish in the end and served this new dish before the king. When he
was asked what this dish was called, he simply said the frost thing that came to him,
"Mysore Pak".
And that is how the Mysore Pak recipe came to be. Over the years, the original
recipe faced some changes and many variations were derived from it. Soon the recipe
was known throughout India.
A Word of Advice
There are a few things you should know before making this recipe. Firstly, to protect
the gram flour from burning, use a heavy bottomed pan. I will also recommend using a
deep pan for your convenience. Moreover, be very careful while stirring to avoid the
mixture from spilling.
Many people complain that their Mysore Pak is not soft. This can be easily prevented
by using more ghee. The amount told in this recipe is great for a nice, Soft Mysore
Pak recipe.
I must warn you, this isn't exactly a "healthy" recipe. There is a lot of fat in this but
don't worry you can still enjoy this sweet. Just keep this one for special occasions and
cheat days.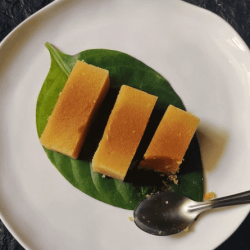 Easy Mysore Pak Recipe
Ingredients
2

cup

Sugar

3

cup

ghee

1

pinch

baking soda

1

cup

water

1

cup

Gram flour
Instructions
Step 1:

Add 1 cup ghee in a pan and heat at medium flame. When it's hot enough add the gramflour and roast until the raw smell is gone.

Step 2:

Take another pan and add sugar and water. Boil until the mixture has one stringconsistency. Once the sugar syrup is ready add the roasted gram flour. Mix well until itthickens.

Heat the remaining 2 cups of ghee. Once hot enough, carefully add the gram flourmixture. Add the cooking soda when the ghee begins to separate from the mixture

Note: When adding gram flour mixture to the ghee, keep stirring continuously to avoid anylumps .

Step 3:

Grease a plate and pour the mixture into it. Carefully spread the mixture and let it cool.Cut it into shapes you like, before it hardens and serve.