Easy Appam Recipe
One thing I like most about dishes, besides their amazing taste, is the way they show
their history and culture. This aspect of cooking always fascinates me and keeps me
motivated to learn more. This is actually the reason I love this tasty appam recipe; it
represents a diverse culture.
Behind its simple taste and appearance, the appam hides creativity and art. This
simplicity is, in fact, the true beauty of this recipe. So let's talk some more about this
beautiful dish.
What is Appam Recipe?
Appam is a simple dish with a simple taste. It's kind of a pancake from India. It's made
with a batter of fermented rice and coconut milk.
The taste mainly comes from coconut milk. Some may argue that this makes it
somewhat "boring". Well, that's true, it's boring on its own. But when it comes together
with a condiment, its true colors shine. Later we'll talk a little more about this.
For now, let's focus on the appam itself. As you all know, I love to talk about the history
of recipes. Although there isn't much to discuss in this one, I'll still give it a paragraph
of its own.
The Origins:
As you know, appam is basically a pancake made of rice. This recipe first became
famous in India; more specifically, in South India. It is believed that it originated there
as well. In some historical books, it's established that appam was a part of South Indian
cuisine even in the Ancient Tamil country.
This holds great significance, as this recipe survived such a long time and still is an
important part of South Indian culture. This is why appam is a staple of South Indian
cuisine and represents the culture so beautifully.
What can you eat with Appam?
Appam, as said before, truly shines when paired with something. Just for clarification,
this isn't about how many variations of appam recipe exist, that will be discussed
later on. This paragraph is about what can you eat with appam as a dish of its own.
This appam recipe is quite neutral in taste and thus needs something spicy or
flavorful to be complete. This kind of appam is often served, in South India, with some
sort of spicy condiment. These can be anything spicy, ranging from ketchup to pickles.
One famous condiment used with appam is the Indian "chutney". A Chutney is kind of
a sauce made from varying ingredients and is often spicy. Other than these, appam is
also enjoyed with Curry.
Some Tips for a Better Appam
In this easy appam recipe, there isn't much to take care of. However, sometimes
there are small details that matter, but are left unnoticed.
First of all, know what kind of rice you're using. Using low-quality rice leads to
the unnecessary inconvenience that can simply be avoided by buying better quality rice.
Talking of rice, there is another thing you can do to make your appam even better. Use
cooked rice. This will make your appam softer and tastier than ever.
One of Many

:

And finally, let's talk about the variations of the south Indian appam recipe. There are many
variations of the original appam recipe, but we'll only talk about some of my favorites
ones.

First, we have a rather simple recipe called "Egg Appam". As the name suggests, this is
Appam with eggs. It's made by breaking an egg in the center of the appam while it
cooks.

The next one is called "Idiyappam". It's basically rice noodles curled in such a way that
they look like flat spirals.

The last variation is by far the best out of these dishes. It's named "Vattayappam"
(yeah, I don't get the names either). It's a crunchy kind of appam often taken as a tea-time snack.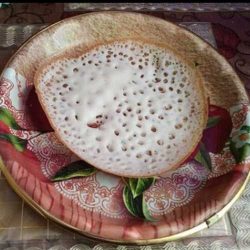 Appam Recipe
Ingredients
1

kilograms

boiled rice

1

teaspoon

dry yeast

4

cup

water

2

cup

grated coconut

Salt as required

1

teaspoon

sugar
Instructions
Step 1:

First, soak the rice in a bowl for 5 hours. Then drain and put these rice and 2 ½ cup ofwater in a pressure cooker. Close the lid and cook until one whistle over medium heat.Then let steam release on its own and open the lid.

Step 2:

Take a blender and make a mixture of these cooked rice and grated coconut. In a bowl;mix sugar, dry yeast, salt and water. Then set it aside for half an hour. Then mix bothmixtures and combine them well. Once done let the batter ferment for about 8-9 hoursor over night.

Step 3:

Take a pan over medium heat and spread the mixture on it. Then cover the pan with alid and heat for 3-4 minutes. Reduce the flame to low and take the appam off the pancarefully.