Yummy Chicken Biryani Recipe
Are you ready for a little challenge? If you've seen the recipe card, you
already know this recipe is NOT beginner stuff. This recipe is here because I
absolutely love it and I was bored of easy recipes.
The Chicken biryani recipe is surely a challenge to make but trust me, it's
worth it. Thus recipe is quite famous in many countries and for good reason;
this dish is an absolute delight to eat. It is wholesome and rich; you can
judge that from its ingredients.
There is so much to talk about and I want to share it all with you so bear
with me if it gets a little "out of hand". But don't worry I'll try my best to be
as concise as I can be. Now let's talk a little more about this chicken
biryani recipe.
How To Make Chicken Biryani?
Yes I said "this chicken biryani recipe isn't beginner stuff", but that
doesn't mean beginners shouldn't try it; after all what's life without a little
challenge, right?
After all that, I'm afraid you'll be thinking that this is some seriously tough
stuff. I apologize for that, it's just because it took me a while to get this
recipe right. So don't be afraid, it's not hard.
Anyway, to make a beautiful chicken biryani you just have to keep the basic
rules of cooking in mind.
The first is to read the recipe thoroughly. Second, keep the ingredients ready
before starting the actual cooking. The third is to make sure you follow the
recipe as it is (especially when you're making it the first time). And lastly,
the most important rule "For God's sake, don't cut off your fingers".
The last one's just a joke but keep that in mind anyway. And when you try
this recipe, do let me know. I can't wait to know what your experience, with
this recipe, was like. If you have any questions; return to the recipe card, it
will have most of the answers. If you're still not sure how to make
chicken biryani, I'm sorry but I don't have any solution for that.
A Little History Lesson:
There is a lot of history and culture behind the chicken biryani recipe. It
is often associated with regions of Persia, Saudi Arabia, and India. It's said to
have been inspired by the rice dishes of these regions.
It is believed to have come from the Muslims of the Indian subcontinent
during the Mughal Era. However, there are other theories that suggest that
the recipe was present in India before the Mughal Empire. Nevertheless, it
became quite popular in the Royal kitchens and its more rich variations,
probably, came from there.
Unfortunately, the exact origin of the chicken biryani recipe is a
mystery. But we do know that this recipe has seen many cultures and has
changed over the years. To this day it is very famous in many countries.
Biryani Is Not Pulao
Pulao is another term used for pilaf, which is another rice dish. Sometimes,
biryani is thought to be pulao. That is because there are some similarities
between these two dishes. Some variations of pulao even taste much like
biryani but these are still two different recipes.
There are a number of differences between a biryani and a pulao. The most
obvious one is that biryani has a stronger taste due to the complex and
strong spices. The second difference is the cooking method.
In biryani the meat and rice are cooked separately, then layered and cooked again
together. But pulao is a pot dish, it's cooked all at once, no layering involved.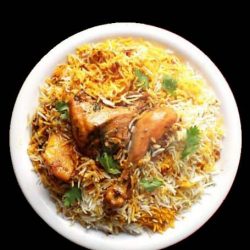 CHICKEN BIRYANI RECIPE
The chicken biryani recipe is surely a challenge to make but trust me, it'sworth it. Thus recipe is quite famous in many countries and for good reason;this dish is an absolute delight to eat.
Ingredients
1

cup

boiled basmati rice

1

chicken, 600 grams

½

teaspoon

mint leaves

1

tablespoon

garam masala, powdered

Salt as needed

1

teaspoon

Saffron

2

tablespoon

refined oil

1

tablespoon

bay leaf

3

green cardamom

1

black cardamom

2

clove

1

teaspoon

Cumin seeds

2

onion

4

green chilies

1

Teaspoon

turmeric

1

tablespoon

ginger paste

1

tablespoon

garlic paste

1

teaspoon

red chili powder

1

Cup

Hung curd

½

tablespoon

ginger

2

tablespoon

Coriander leaves

2

drops

kewra

Water as needed

1

tablespoon

Rose water

1

tablespoon

ghee
Instructions
Step 1: Soak the saffron in water to make saffron water. Also mix kewra drops inwater to prepare kewra water.

Step 2: Take a deep-bottomed pan and heat oil at high heat. When the oil is hotenough, put in the cumin seeds, bay leaf, green and black cardamom, andcloves. Sauté for about a minute, then add chopped onion. When the onionsare pink add the chicken and slit green chilies, turmeric, salt, ginger-garlicpaste, red chili powder and green chili paste. Mix it well and then cook forabout 2-3 minutes. Add hung curd in it.

Step 3: Turn down the flame to medium and add garam masala, julienned ginger,some coriander, mint leaves, kewra water and some of the saffron water andcook until the chicken is tender.

Step 4: Add the cooked rice and spread them evenly over the chicken mixture. Addthe rest of saffron water and pour ghee over it. Cook for 15-20 minutes andkeep the lid closed.Garnish with a tablespoon of fried onions and coriander leaves and servehot.