Easy Chicken Salad Sandwich Recipe
Hello dear friends! Today I have something special for you. What is it? Well,
it's a sandwich recipe. But don't be so quick to judge, it might not look like
it, but it's pretty special. It's a chicken salad sandwich recipe. A perfect
blend of healthy nutrients and flavor.
Nutritious vegetables and spices come together with tasty chicken in this
easy chicken salad sandwich recipe to make a memorable meal. This
recipe is especially for the parents out there. If you think that feeding
vegetables to children can be hard, you're certainly not alone. Children can
be a handful sometimes, especially around vegetables.
So what can you do? A sandwich is a perfect disguise to slip some green into
your child's diet. Once they get a taste for it, they'll want more. The lovely
taste of chicken with healthy vegetables will taste as good as a restaurant
burger.
Perfect Chicken Salad Sandwich Recipe
As I said (a million times) before, this chicken salad sandwich recipe is
great when it comes to health; it has healthy fiber, protein, and a good
amount of other nutrients. Among these nutrients is fat, which is good for
you… as long as it's within a limit.
The mayonnaise is the major source of fat in the chicken salad sandwich recipe; so, the more the mayonnaise, the more the fat and calories. Too much fat is obviously bad for you, so I'd recommend not using too much mayo. To make the recipe even better, you can use fat-free mayonnaise.
Another warning about the mayo. When you freeze your sandwiches, the
mayo in them is separated into its components; so, when it thaws there is a
layer of liquid over it. That isn't bad for you, but it does make the sandwich
look strange and gives a "not so good" texture as well. So I think you should
just eat your sandwiches after you make them.
But in case you still want to freeze them, here's a tip. Prepare the salad as
you would just don't add the mayo. Freeze the salad and when you are ready to use it; get it out of the fridge, let it thaw at room temperature. Now, can put the mayo in, mix and enjoy with bread.
I have one more tip. You can eat your sandwiches while they're frozen. Yes,
you read right; when they're still frozen, the mayo doesn't separate and the
texture remains the same. Plus the sandwiches are much better when they're frozen (at least that's what I think). If you don't like frozen sandwiches, then you should try any of the other tips.
This healthy chicken salad sandwich recipe gives you a lot of room to
be creative. If the kids are bored of the same old chicken salad sandwich
recipe, experiment a little with new ingredients and make it a little exciting
for them and for yourself. Try the salad on its own without bread. Or make a roll. Try new things and don't worry, everyone makes mistakes, and out of
these mistakes come the best of things.
Now let's talk a little about what you can pair your chicken salad
sandwich recipe with. The best dishes, in my opinion, will be the light
ones; as the sandwiches are pretty rich and savory and something light like
green salad will balance it perfectly.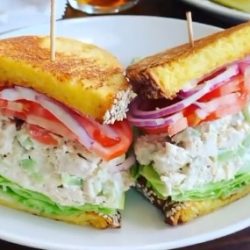 Chicken Salad Sandwich Recipe
Ingredients
3

boneless chicken breasts, skin removed

6

slices lemon

6

sticks of dill, plus 1 tablespoon chopped

1

green apple, chopped

½

red onion, finely chopped

2

celery stalks, finely chopped

2/3

cup (153 grams) mayonnaise

¼

cup (62 grams) Dijon mustard

2

tbsp

red wine vinegar

Kosher salt

Freshly ground black pepper
Instructions
Put the chicken in a single layer , in a large pot. Now place the lemon slicesand the dill sticks on the chicken. Pour water on it until covered by an inch.Bring it to a boil then lower the heat. Let it simmer for about 10 minutes oruntil it is cooked through.

Let it rest for at least 10 more minutes and then cut into small pieces.Combine the chicken, apple, celery and onion in a large bowl.

In a medium sized bowl, mix the mayonnaise with vinegar and Dijontogether. Add some salt and pepper in the mixture and pour it on thechicken mixture.

Mix well and garnish the chopped dill. Serve on the baguette with lettuce.
For special occasions they can be paired with fruit platters or vegetables, it
will be a refreshing dish. Cheese, macaroni salad and dill pickles are also
amazing with chicken salad sandwich recipe
This is the best chicken salad sandwich recipe that you'll taste, so let us know your experience in the comments.