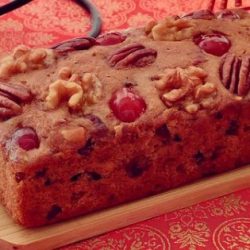 EASY CHRISTMAS FRUITCAKE RECIPE
Ingredients
1

cup

(240 ml) water

1

cup

(200 grams) light brown sugar

firmly pressed in the cup

¼

cup

(55 grams) diced butter

1

tbsp

ground cinnamon

¼ – ½

teaspoon

ground cloves

1

teaspoon

ground ginger

½

teaspoon

(2 grams) fine kosher salt or coarse sea salt

2

cups

(300 grams) dark or golden seedless raisins, currants, and driedcranberries (optional)

2

large, lightly beaten eggs

1 ½

cups

(195 grams) all-purpose flour

1

teaspoon

(4 grams) baking soda

1

teaspoon

(4 grams) pure vanilla extract (optional)

1

cup

(150 grams) chopped mixed peel
Instructions
Boil the water with the sugar, butter, spices, and the dried fruit for 5minutes, then let it cool till its slightly warm.

While the mixture is cooling, heat your oven to 350° F (or 180° C).

Butter a loaf pan (8.5×4.5×3 inches or 21.5×11.5×10 cm). Then take aparchment paper and butter it and put it on the bottom of the pan.

When the mixture cools, put in the flour, beaten eggs, vanilla extract (ifusing any), baking soda and the mixed peel and stir it gently.

Now you can pour this mixture into your already prepared pan and smooththe top with the back of a spoon. Bake for 55 to 65 minutes. To check if yourcake is ready, push a toothpick down in the center of the cake if it comes outclean, the fruit cake is ready.

Let it cool for 15 minutes before removing the cake from the pan. It is betterto store it for a few days before serving.
Notes
Note: When using a dark pan, reduce your oven to 325° F (160° C). Note: You can also freeze this fruitcake.
Fruit cake recipe for Christmas season and soon this year will be over and a new chapter of our lives will unfold. But for now what to do to take your mind off 2021…. Well, you can cook, it's time-consuming and also has a delicious outcome. So here's a little something you can cook, A Christmas fruit cake recipe.
Why fruit cake?
Well, firstly fruit cakes are simply mouth-watering, and they have candied fruit, which speaks for itself, and secondly, fruitcakes have been around for a long time and they've been through a lot (not in a bad way though). Plus they look so good!
Fruit cakes recipe have a very interesting story, but not a long one. It all began somewhere in ancient Rome. The first recipe was simple with just a few ingredients like pine nuts, pomegranate seeds, and raisins; and of course the basic cake ingredients. In the middle ages, spices, honey, and preserved fruits were also put in the old recipe to make it a little more fun.
Then the recipe began to travel around Europe and became quite popular. Then the forces of nature like the ingredient availability in
different countries forced some changes in the recipe. And soon there were a lot of variations of the same old fruitcake recipe.
Nowadays there is even more variety of fruitcakes, ranging from light
and nutty to rich and moist. And over the centuries, more fruitcake recipes appeared all around the world,
As fruit cake recipes have a history in almost every country and food (especially sweet food) often interacts with festivals. The fruitcakes were slowly embedded in the tradition of many cultures. One example of this is Christmas. Soon it became a tradition to make fresh fruitcakes for Christmas.
Where Fruit Cake Recipes are Popular?
In the UK the traditional "Christmas Cake" is actually a fruitcake, just round and covered in marzipan and fondant icing; decorated with Holly leaves, berries, tiny snowmen, or Robins (or both), just to add a little Christmas in it. Although, they are mostly taken on their own, sometimes they are also eaten with buttercream or even cheese.
In the US, fruitcakes are richer in nuts and fruits. Claxton fruitcakes are especially popular in America. When the Claxton bakery began focusing more on fruitcakes they got extremely positive feedback from their customers, and so the Bakery prospered. This was the reason that the Bakery began to sell fruitcakes for fundraising purposes and helped many in the past few decades.
More changes were added to the old fashioned fruitcake recipes when some church regulations forbade the use of butter. As you can imagine people didn't exactly "love" that. But then to their utter relief came to the "Butter Letter", thanks to Pope Innocent the VIII, that granted the permission to use milk and butter in Stollen fruit cake recipe.
And if you were wondering, No I didn't spell "stolen" wrong, Stollen is a kind of German bread, quite similar to fruitcakes and like fruit cake recipes, is mostly eaten during Christmas. This type of Stollen is also known as Christmas Stollen or Christ Stollen.