As I looked through our little cookbook, searching for a nice dinner, I came across the
Asian cuisine and I thought "let's try something new tonight". That's how I tried this
beautiful dish and it was a great dinner. It's definitely one of my favorites and therefore
it's my duty to share this amazing "Katsu Curry Recipe" with you.
This recipe is quite easy to make and doesn't take too long either. This Chicken katsu
curry recipe is quite easy to follow, so you won't have any problem with that. There
are also headings to help you out through the different parts of the recipe.
Also please let us know, in the comments, what we should do to make our recipes even
better for you. We work hard to bring you recipes that anyone can easily understand.
You can always help us in our cause by sharing your thoughts on our work and helping
us get better.
A Wholesome Katsu Curry Recipe
This beautiful recipe has three main parts: the rice base, the chicken katsu, and of
course, the curry sauce. The rice brings its light and natural flavor to this katsu
curry recipe. The diversity of rice foods in Asian cuisine is always fascinating and
it's amazing how they do so many things to simply cooked rice. This is one of the
reasons I love Asian cuisine so much because it gives simple yet satisfying dishes with
rich flavors.
The "Chicken Katsu" adds another layer of texture to this recipe. It's incredibly
satisfying to have tasty chicken katsu and curry sauce in one recipe, it's absolutely
AMAZING. (And if all those adverbs don't make it clear enough, this recipe is definitely
worth a try.
The curry sauce might seem simple but it has a great combination of flavors that lift the
chicken katsu curry recipe to another level. These components come together in
the best way and maintain such a balance that it's just excellent.
Some History:
There is a complicated history behind the origins of Curry. So I'll try to be as short as I
can be (yeah I know the last time I said this I still ended up writing a long article, so
bear with me).
The Katsu curry recipe itself originated in Japan as a variation of the curry recipe.
The curry recipe was brought to Japan by the British and it is thought that they got it
from the Indians. But anyway, the curry was introduced to Japan, and many variations
were taken out of the original recipe. One of these variations is this best katsu curry
recipe.
It is said that the Japanese just mixed their katsu recipe with the curry recipe and that
actually makes sense. If any of you don't know what "katsu" is, let me explain
Katsu is basically a Japanese dish made with meat and panko bread crumbs. Katsu is,
actually, a shortened form of the Japanese word "katsuretsu", which means "cutlet". To
summarize, katsu is a Japanese version of cutlets.
Is Katsu Curry Recipe Healthy?
Yes, it is. This recipe has a healthy amount of protein, fiber and many other nutrients.
Other than that you can also try to make the vegan katsu curry recipe, the method
is mentioned in the recipe card. This way you can also satisfy your vegan friends.
Let's talk about Freezing
This katsu curry freezes quite well. Even the tofu katsu curry recipe is great in a freezer. So when you make extra, put the katsu between two baking parchments to avoid a sticky situation and freeze. When ready to cook, take it and cook without thawing. For the curry sauce freeze in an airtight container and thaw it well before reheating.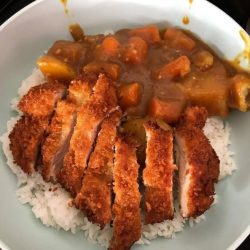 Katsu Curry Recipe
Ingredients
4

tablespoons

Rapeseed oil (or vegetable oil)

2

pouches

cooked rice (200 g each)

½

large cucumber, peeled into ribbons

Mint leaves, handful, (you can also use coriander leaves)Lime wedges (to serve)
For the curry sauce
1

tablespoon

Rapeseed oil or vegetable oil

2

onions, chopped

3

large carrots, 2 chopped and 1 peeled into ribbons

2

garlic cloves, crushed

1

piece

ginger (thumb-sized) , peeled and grated or finely chopped

1

tablespoon

curry powder

½

teaspoon

ground turmeric

1

can (400ml)

coconut milk

2

teaspoons

maple syrup (if not cooking for vegans, you can use honey)
For the Katsu
1

tablespoon

Corn flour

8

chicken mini fillets (or a 280-300g block firm tofu, or half and half)200g of breadcrumbs (gluten-free if necessary)
Instructions
Step 1: Heat the 1 tablespoon oil in a pan. Cook the onions and carrots for about 8minutes, or until the are soft. Put in the garlic and ginger, fry for another 30seconds. Then stir in the curry powder and turmeric.

Step 2: When the spices are warmed well enough, add the coconut milk, maple syrup (or honey) and the water. Season the mixture, then cover and simmer at low heat for about 20 minutes.
For The Katsu
Step 3: Take a wide bowl and mix 4 tablespoons of water, corn flour and some seasoning. Dip the chicken (or tofu) in this flour mixture. Put the breadcrumbs in another bowl and dip the chicken (or tofu) in the breadcrumbs. Turn the chicken to make sure it's coated well.

Note: when making for both vegans an non-vegetarians, dip the tofu first to prevent it from mixing with the chicken.

Step 4: Once the onions and carrots in the sauce are soft, process the sauce using a hand or table-top blender.

Note: Add a little more water of the sauce is too thick but check the seasoning and add more if needed. You can also add more salt, maple syrup or lime juice if you like. Keep the sauce warm.

Step 5: Heat oil in a sauté pan and cook the prepared chicken (or tofu) for about 4-5minutes on each side, or until its golden and cooked well. Warm the rice and divide it in bowls. Top with some curry sauce and the katsu chicken (or tofu). Serve with cucumber, carrot ribbons, herbs and lime wedges.