Best Smash Burger Recipe
Let's smash some burgers! Don't know what "smash" burgers are? It's OK
because that's what I'm here to explain. The "SMASH burgers" are what the name suggests: the poor burgers that have been smashed mercilessly. Don't worry, that was just a joke; no "burgers" were harmed in the making of this recipe.
The Smash burger recipe is a yummy addition to your dinner or lunch. This is the kind of thing you make in your backyard on a griddle and enjoy with your family. Or the thing you make for a picnic on a beautiful evening. So, let's talk a little more about this smash burger recipe.
This is the best smash burger recipe if you're craving a restaurant
burger (but don't wanna go and buy from a burger joint). It's easy to make
and taste better than the burgers you buy from any burger joint. And it
tastes even better if you have your family to enjoy it with.
Make these smash burgers for dinner and serve with some tomato and avocado salad or just simple coleslaw. It also tastes good with roasted sweet potatoes and butter milk and grilled potato slices with salt and vinegar.
How "smash burger recipe" is better than the "regular burger recipe"? Well,
the secret is in the name: "smash" burger. Yes, you guessed it; the smashing
makes these burgers so unique and Tasty. But how?
The answer to that question is that when you smash a patty, the meat makes
more contact with the heat, and thus something called "The Maillard
reaction" happens. This gives the party its brown and charred look. This also improves its taste. Smashing will also make them flatter and increase their contact area; which means more taste for you.
Some people say that the "smashing" leaks out the juice and makes the patty dry. Well, that's true in a way. If you don't do it the right way this can
happen. For instance, if you smash too much, the juice WILL drip out and
you'll have a bunch of dry patties.
Timing is also important in this matter. It is recommended to smash the parties in the first 30 seconds of putting them on the pan; this way the juice will be locked in the meat and the patties will be nice and juicy. And if you were wondering; Yes, you can use bacon press to smash your patties, it's much easier to use too.
So here are the tips to cook better petties but… you can't cook patties if you don't know how to shape them into their patty form. It's quite common that
you shape your patties the best you can and a few minutes (or seconds) later you see them crumbling to pieces. I see your pain, my friends. So, what can we do to make that go away?
Keep a gentle hand. Yes, be gentle when you shape your patty, and don't
rush. Slowly make the patty and press until it holds its shape. Putting your
patties in the refrigerator for a few minutes before drying is also a good idea but be warned, frozen patties don't always smash that well.
Some mistakes while frying can also make your patty fall apart. You can
make some simple mistakes like flipping your party before it's cooked well
enough. When you do that, you don't give the meat a chance to cook and
hold the rest of the party together. Its better to give the patty some time to
cook and then flip gently.
Don't flip your patty TOO Many times. Just flip it once when one side is
cooked well enough. Keep this in mind when you try this smash burger
recipe and everything will be fine.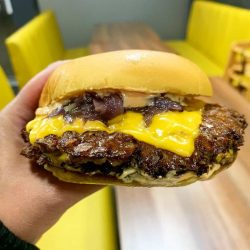 Smash Burger Recipe
Ingredients
½

teaspoon

vegetable oil

16

oz

ground beef (454 grams), divided into four 4 equal portions

Kosher salt and freshly ground black pepper

Cheese slices (optional)

Toppings and condiments as desired

4

toasted burger buns
Instructions
Step 1: Add oil to a stainless steel frying pan and wipe the oil with a paper towel tospread the oil around. Preheat the pan over medium heat for 5 minutes.

Step 2: Meanwhile, shape the beef portions into round "patties" about 2 inches tall.Press it together until the beef holds its shape and season with salt andpepper.

Step 3: Increase the heat and when the pan starts smoking put the already preparedpatties. Use a strong, metal spatula to press the patties. Press each until itspreads to about 4 inches in diameter.

Step 4: Let them cook without moving until they have a golden brown crust. Thenscrap up the patties one by one using the edge of the spatula and flip. If youare using cheese, you can add it now.

Step 5: Continue to cook until the patties are just as cooked as you want them. Topthe buns with desired toppings, put the patties on the buns, close and serve.