Enjoy the Banana Walnut Bread recipe, a delicious combination of flavors that will tantalize your taste buds. This treat is well-loved for its light and moist texture.
This delightful creation is not only a treat for your taste buds but also a clever way to make use of overripe bananas that may otherwise go to waste.
A Simple Yet Delicious Banana Walnut Bread!
Let's explore the unique qualities that make banana bread a beloved dessert. This culinary masterpiece is likely familiar to you. All of us have been drawn to its irresistible taste from time to time.
Whatever the reason, this recipe is a certain winner when it comes to bread. Not only does it deliver a burst of flavor, but it also rescues those over-ripe bananas from being tossed aside.
With this recipe, you'll craft a moist, aromatic, and supremely flavorful loaf of bread. I'll go out on a limb and say this banana bread can even give my beloved fruit cakes a run for their money.
These days banana bread has been a very delightful treat for me. I have tried a couple of different banana bread recipes these past few weeks. And yet I find myself wanting more. Even now I am working on another banana bread recipe.
However, don't worry I am not going to feed you the same thing twice. This recipe will focus on making the bread with special equipment like a stand mixer. While the other one will be a lot more simple.
There will be a few more differences, of course. But I will leave it up to you to choose which one you try first.
The Best Ingredients for Your Banana Bread Adventure!
Now, let's chat about the essential components for this recipe. The basic banana bread recipe requires flour, sugar, baking soda, butter, eggs, vanilla extract, and, of course, bananas.
Beyond these basics, you have the freedom to experiment with an array of dried fruits, nuts, or even chocolate to tailor your banana bread to your liking. If you prefer a simpler loaf, feel free to skip the toppings – it'll still be downright amazing.
This freedom is especially good for those with nut allergies. You can easily replace the ingredients that you don't like or can't eat and still make a wonderful loaf of bread.
Bananas: The Star Of The Show
It would be a shame to waste those bananas when they can be transformed into delicious banana bread.
Turning potential waste into something scrumptious is always a win. As the saying goes, "When life hands you overripe bananas, make banana bread."
P.S. Pardon my overuse of this line, it is absolutely hilarious to me.
No need to worry if you don't have enough overripe bananas for the recipe. Simply take some bananas and bake them at 250 °F for 15-20 minutes to prepare them for your banana bread.
Let's Get Bakin'!
Now, it's time to roll up our sleeves and embark on the banana bread-making journey. As mentioned earlier, we will be using a stand mixer for this one. No need to worry though, it is still very simple. Besides, you can always use my other banana bread recipe to make this bread without using any special equipment.
A reliable way to check if your cake is fully baked is by inserting a toothpick or the back of a spoon into the center of the loaf.
If it comes out clean, without any wet batter sticking to it, your cake is fully baked and ready to be removed from the oven.
It is okay to have a few crumbs on the utensil, as long as there is no wet batter present.
In Conclusion
Hope you enjoy this exceptional recipe as much as we do. Share your experience in the comments. Happy baking!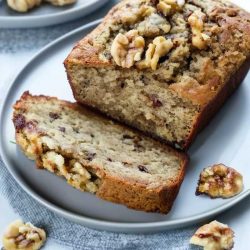 Banana Walnut Bread Recipe
Enjoy the Banana Walnut Bread recipe, a delicious combination of flavors that will tantalize your taste buds. This treat is well-loved for its light and moist texture.
Ingredients
1 ¼

cups

all-purpose flour

1

teaspoon

baking soda

½

teaspoon

salt

2

large eggs

½

teaspoon

vanilla extract

½

cup

unsalted butter

at room temperature, plus more for preparing the pan

1

cup

sugar

3

very ripe bananas

about 1 cup when mashed

½

cup

toasted walnut pieces
Instructions
Step 1:

Preheat the oven to 350 °F (or 175 °C). Butter a 5×3" loaf pan with butter.

Then put the flour, baking soda, and salt into a medium bowl and mix well. Mix the vanilla extract and eggs in a separate bowl. Set these aside for now.

Step 2:

Use a stand mixer or a hand-held electric mixer to cream the butter and sugar until it turns light and fluffy. Next slowly pour the egg mixture into this butter. Keep stirring all the while to mix these ingredients well.

Next, add the bananas and remove the bowl from the mixer.

Step 3:

Use a rubber spatula to mix the dry ingredients (the flour mixture) into this batter. Sprinkle the nuts over it and fold them in. When all the ingredients are well incorporated, pour the batter into the loaf pan and pop it in the oven.

Step 4:

Bake for about an hour. Use a toothpick to check if the bread is done. Insert it in the middle of the loaf; if it comes out clean you can take out the pan of the oven.

Let it cool on a rack for at least 5 minutes before removing the bread from the pan. Wrap it in a plastic wrap and set it aside until you decide to serve.
Video