Best Chicken Tortilla Soup Recipe
Hello there! Today we have a beautiful soup in our hands. It was an
incredible experience cooking this dish and I can't wait to share this
amazing chicken tortilla soup recipe with you guys.
Today's recipe also comes from our favorite savory cookbook of Mexico. The savory and unique taste of Mexican cuisine has been a prominent topic of the last few posts. That is because Mexican food usually has unique and
interesting combinations of different ingredients and yet its quite easy to
make. And that's our goal; making your cooking experience as fun and easy
as we can.
So please try this recipe, share your thoughts with us and help us improve.
Let's dive in this Mexican chicken tortilla soup recipe together and
find out what makes a simple soup so special.
What is Chicken Tortilla Soup Recipe?
A chicken tortilla soup recipe is a classic Mexican soup recipe. It has some simple ingredients like onion, garlic, tomatoes, beans, jalapenos, cilantro and of course, the chicken. This delicious mixture of ingredients is
simmered on a gentle flame and topped with crispy tortilla strips, avocado and cheese. Yeah, that's all it is; that's all you have to do to make a fresh and spicy chicken tortilla soup.
That's exactly what I expect from Mexican cuisine; an easy soup that makes
vegetables look delicious. These ingredients complement each other and
balance the dish perfectly. This is the best chicken tortilla soup recipe
to try when you're out of cooking ideas and craving something wholesome
(and spicy of course).
But is it Healthy?
This chicken tortilla soup recipe has an incredible flavor and is surprisingly healthy too. Although it doesn't look exactly like a healthy meal,
it's packed with protein and doesn't have much calories either. This recipe is much more healthier than other tortilla soup recipes because it has something special that makes it different. Yeah, you guessed it; it's "chicken", the source of protein in this recipe.
What goes well with the Chicken Tortilla Soup?
I think cooking is not complete until you show it off to your friends and family. So if you're going to show off your cooking, you'll need more than just a soup to impress someone. Well, you're in luck because there are many recipes that go with this soup.
Why don't you plan a Mexican themed party and serve this tortilla soup with some Mexican classics like tacos, burritos and quesadillas. I'm sure that will make the day for your guests. Make it even better with something like guacamole, roasted corn or jalapeno corn bread. There are plenty of other dishes that will make your tortilla soup sing (not literally).
Would you like some Toppings?
I have quite some toppings for this soup, but it looks great even without them. This classic Mexican chicken tortilla soup recipe can be garnished with almost anything. But a few toppings are more popular and for good reason. Crown your soup with some sliced black olives, some green chilies for a more natural feel or even some shredded cheddar.
Other than those, you can also try crumbled Cotija cheese or even some cubes of avocado on your tortilla soup. As I said, almost everything goes with this chicken tortilla soup recipe; so, don't be afraid of trying new things and find the perfect match for your soup.
Let's Freeze it
Got some leftover chicken tortilla soup? Let's freeze it. It actually freezes
quite well and lasts for about 3 to 4 days. Just remember to store it in an
airtight container; so that it remains nice and fresh. Ready to use? Reheat in
a sauce pan over medium-low heat. Keep stirring until it's warm enough and enjoy.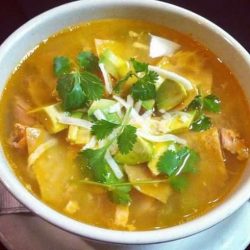 Chicken Tortilla Soup Recipe
Ingredients
2

tablespoons

vegetable oil

1

small onion, diced

2

tablespoons

minced garlic

2

jalapenos, finely diced

6

cups

low-sodium chicken broth

1

can

(411 grams) fire-roasted diced tomatoes (411 grams)

1

can

(411 grams) black beans, rinsed and drained

3

Chicken breasts, boneless and skinless

2

limes, juiced, plus wedges for garnish

Salt and freshly ground black pepper

1

cup

roughly chopped fresh cilantro leaves

1

8-inch flour tortilla (grilled and cut into thin strips)

1

avocado, pitted, sliced

1

cup

Monterrey cheese, shredded
Instructions
Step 1: Put the vegetable oil in a large sauce pan and heat at high. Add the onions and cook for about 2 minutes or until they are soft, then add the garlic and jalapenos and cook for one more minute.

Step 2: Put the chicken broth, tomatoes and the beans in the pan and bring to a boil. Once it boils, lower the heat and let it simmer. Add the chicken breasts and cook for 20 to 25 minutes. When the chicken is cooked well, remove the heat.

Step 3: When it's cool enough to touch, shred the chicken and set it a side. Add lime juice and the cilantro to the sauce pan. Put a mound of the shredded chicken in a serving bowl and ladle the soup over it. Top with alime wedge, the grilled tortilla strips, avocado slices and cheese; and enjoy.