Yum Easy Flapjack Recipe
Today we have another super easy and tasty dish for you. This flapjack recipe is sure to leave you asking for more. Its easy procedure and amazing taste will blow your mind. Let's take a deep dive into this easy flapjack recipe and find out some more about these "little bundles of utter Deliciousness".
What are Flapjacks?
Flapjacks are, perhaps, most famous in the UK than in other countries. In fact, these sweet cookie-like bars originated in the UK. The flapjack recipe has always been simple, including just a few ingredients and easy directions. However, a few tweaks were made here and there as time passed.
The Flapjack recipe, we have today, is made from oats, light brown sugar, butter, and of course, golden syrup. This dessert is never complete without some golden syrup (in my opinion anyway). Once the ingredients have been mixed, the Flapjacks are simply baked in an oven.
There are other additions one can make to lift this easy flapjack recipe to a whole new level. But more on that later, because we have some history to talk about first.
Some History
Unlike most of our recipes, this recipe is quite mysterious in terms of its background. However, we do know a few things. First of all, we know that the flapjack recipe came from England. But apart from that, there is one more thing to note.
At first, the word "flapjack" was a name for something like an apple flan or apple pie. This was its use for a long time, but then something changed. Around 1935, it was used for some of the oat-based dishes. In the UK, "flapjack" replaced the old names of some recipes.
Unfortunately, we have no idea what these recipes were called before this name change. This is the reason that the roots of this tasty flapjack recipe cannot be traced much farther. Anyway, we still have an amazing dish to enjoy.
The More, The Merrier
Now let's talk about the additions I mentioned before. There are quite some interesting ingredients that are used to make your favorite Flapjack flavors. You can achieve these unique flavors as well, simply by experimenting a little.
I'll mention a few of the many ingredients that can be used to improve this simple flapjack recipe. The first ingredient is the one EVERYONE loves… "Chocolate". Chocolate gives the perfect "chocolate cookie (or biscuit if I may) taste" to your flapjacks.
What can be better than that?
Dried Fruits. Yes, dried fruits and nuts are the next ingredients. These fill the flapjacks with a rich and wholesome taste. Want something a little different?
Why don't you try some toffee pieces in your Flapjacks? No kid can reject this one. It's sweet and delicious but filled with toffee at the same time… that's a deal even adults can't turn back. These are just a few things, you can experiment with almost anything.
(Looks) Names may be Deceiving
Flapjacks… this name can be a little misleading for some people. How? Well, this name stands for a different dish in some countries. In countries like the USA and Canada, "flapjack" equals "pancakes". These are two, completely different dishes that (sometimes) share a name.
Other than that, our beloved flapjacks also have a number of other names. Some of them being; Muesli bar, cereal bar, and even a slice (maybe because its "sliced" into rectangles or something).
Enjoy!
This dessert is for you. We wish you enjoy it as much as we did. Make sure to share your experience with us and have a nice meal.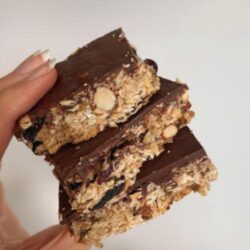 Flapjack Recipe
Ingredients
250

gram

jumbo porridge oats

125

gram

butter (and some extra for the baking tin)

125

gram

125 light brown sugar

2-3

tablespoon

golden syrup
Instructions
Step 1: Preheat the oven to 180-200°C.Put the oats, sugar, butter, and golden syrup in a processor. Pulse the ingredients until they're mixed.

Step 2: Take a baking tin (20×20 cm) and gently butter it. Now put the mixture in the tin. Use a spoon to press the mixture till it's flat. Then cut the mixture into 12 equal pieces and bake for about 15 minutes or until they're golden brown.
Notes
Note (Step 1):

Be careful while mixing the ingredients, if overmixed, the oats may lose texture.