Quick & Easy Manchow Soup Recipe
There isn't much I'd say about the manchow soup recipe, except that it's one beautiful recipe. The recipe might not be the shortest but it's still quite easy to make.
Each ingredient gives it an uplifting taste, especially the spices which are one of the most obvious flavors. It's great in every way. There are a few things that can make it even better. I'll try to give you at least some tips on how to get the best out of this tasty manchow soup recipe.
Where's Manchow Soup Recipe from?
This Veg manchow soup recipe is from one of my favorite cuisines.  There are many mouth-watering dishes that belong to this cuisine. I am talking about "Indian Chinese cuisine".  
Indian cuisines are marked by amazing flavors and warm spices. This  Veg manchow soup recipe is no exception, every ingredient provides a  different taste and yet comes together perfectly.
Moreover, manchow soup recipe originated from Meghalaya in India and carries the distinct flavor of its birthplace as well. This makes it unique and therefore it stands out among the many soup dishes of this cuisine.
Crispy Noodles:
This Veg manchow soup recipe is amazing on its own but you can make it even better, just by making a few tweaks. You've already guessed what I'm talking about from the title; so I'll just skip the suspense and get to the point.
To make the noodles nice and crunchy for your manchow soup recipe, you just need to do a few extra steps.
Your work begins just after the noodles have been boiled. Firstly, drain all the excess water from the noodles. Spread the noodles on a tray for about 30 minutes to make sure they're completely dry. Next, sprinkle 2 or 2 and a half tablespoons of cornflour and gently coat the noodles. 
Then heat 1 cup oil in a frying pan. Once it's hot, drop some of the noodles in the oil. Fry till one side is crispy and light brown, then turn and fry the other side.
Repeat this with the rest of the noodles. It will be much easier to fry them if you make 4 or 5 batches of noodles. Also, make sure to check if the oil is hot before frying the next batch.
A Few More Tips
Although there isn't much to talk about here, I'll want to share some tips to make your experience with this recipe a lot better.
I've said this before in many recipes and I will say it again, "always read the whole recipe first then actually try it". Many mistakes and accidents can be avoided by this and that is why I highly emphasize it.
Also, make sure to not overcook your manchow soup. The vegetables may turn mushy and ruin the recipe.
More Like This
If you like this recipe, there are many on our site that you will find amazing. If you're looking for another soup but more rich and savory,  then you're in the right place. You should definitely try our taco soup recipe. 
It has everything you could ask for in a soup, spices, natural taste, a  breath-taking aroma, and of course, an amazing appearance.
Linguine with clam sauce recipe is also much like our manchow soup  recipe, but lighter and wholesome. If you like linguine and want to make some yourself, this recipe is what you need. 
Speaking of manchow, there is another recipe you will love to try out.  Gobi Manchurian recipe is another masterpiece from Indian cuisine.  It has great taste and wholesome ingredients that will leave you asking for more.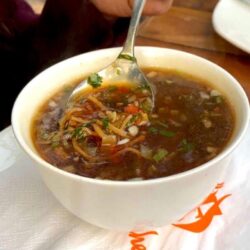 Manchow Soup Recipe
Ingredients
½

tablespoons

or 2 oil

¾

tablespoon

ginger, finely minced

¾

tablespoon

garlic, finely minced

1

Green chili, finely chopped and deseeded

¼

cup

onions, chopped

2 or 3

Stalks spring onions, finely chopped

⅓

cup

carrot, finely chopped

¾ or 1 cup

cabbage, shredded

2 or 3

tablespoons

French beans, finely chopped

2 or 3

tablespoons

capsicum chopped

3 or 4

mushrooms, finely chopped (optional)

1 or 2

tablespoons

coriander stems (or celery stalks), finely chopped

2

tablespoons

coriander leaves, finely chopped

½

teaspoon

or ¾ salt

3

tablespoons

organic soya sauce (or tamari)

½

teaspoon

Black pepper, crushed

1 ½

tablespoon

cornstarch

1 or 3

teaspoons

rice vinegar (or apple vinegar)

1

pack noodles (150 grams)
Instructions
Step 1:

Heat ½-2 tablespoons of oil in a frying pan. Keep the flame at medium until the oil is hot, then turn it high and add the garlic, ginger, chili, and coriander stems. Fry for 30 seconds and then add the spring onion whites and onions.

Fry till the onions are golden.

Step 2:

Add the cabbage, beans, bell peppers, mushrooms, and carrots to the pan. Sauté, while stirring continuously, for 2 minutes or until the veggies give off an aroma. Then pour 4 cups of water (or broth) and bring it to a boil.

Step 3:

While the soup boils in the pan, stir cornstarch with 3-4 tablespoons of water and make a smooth slurry.

Reduce the flame a little. Slowly mix the slurry in the boiling, keep stirring continuously.

Step 4:

Keep cooking until the soup is slightly thicker, then add the coriander leaves and the rest of the spring onions. Pour in soya sauce, half a  teaspoon of salt, and crushed pepper.

Step 5: Turn off the heat when the soup is thick enough and keep it covered until ready to serve. Just before serving add the vinegar to the soup.Note: Don't overcook, the vegetables should remain crunchy.

The NoodlesStep 6:

Prepare the noodles according to the instructions on the package. Once they are cooked, drain them in a colander and rinse under running water to remove the starch.

Note: Make sure the noodles aren't overcooked or they will turn out too mushy.

Step 7:

Pour the manchow soup into bowls and top with the prepared noodles and green onions. You may also add some hot sauce and serve.
Notes
Step 4 Note:  You can adjust the soya sauce, salt, and pepper to your taste.