Easy Chicken Doner Kebabs Recipe
When you think of Doner kebabs, what is the first thing that comes to  mind? Is it that taste of roasted meat or that mouth-watering smell of  spices? Or is it something completely different?
For me, it is the taste. Every one of us, who has tasted a doner kebab,  knows what I mean. And those of you who are new to the  awesomeness of doner kebabs, you will know soon enough.
This chicken doner kebabs recipe is going to blow your mind. I know  that some of you think that it is impossible to get the kebab-shop taste  at home. But you, my friend, are sorely mistaken. This recipe is going to  show you the very best of doner kebabs. 
What is Chicken Doner Kebabs Recipe?
Doner kebabs are a Turkish dish. They have been around for decades.  The main ingredient in this dish is meat; we used chicken, but you can  use any meat.
The meat is marinated and stacked on a slowly rotating rod. But we  used skewers because they can fit in our ovens. Plus, they are easier to  handle.
This recipe has a unique technique. It was new to me and a little  challenging. But, after some minor Hiccups, I started enjoying the  process. It was a piece of cake after that.
I loved learning about the Rotisserie (or as it is commonly known, Spit Roasting). I'll tell you more about it later.
But first, we have to talk about the "Sandwiches". The vegetables in the  sandwiches bring out the best flavor of the meat. I like the sandwich  form of the doner kebabs. However, you can also try out the kebab  plates.
Here's how you can make kebab plates at home.
Kebab Plates
For this, you are going to need some Mejadra (A middle eastern dish  made with rice and lentils), tomatoes, sliced red onions, shredded  lettuce, tabbouleh, and a dollop of hummus. Serve these with the  chicken. You can also serve some Lebanese bread (or flatbread) on the  side if desired.
These accompaniments taste awesome with the chicken. You can add some more vegetables to these plates if you want. Though it tastes  wonderful like it is. 
The Rotisserie
Now let's get back to the interesting part of the recipe, the Rotisserie.  The rotisserie has been around for thousands of years. In ancient times,  people cooked meat on horizontal rotisseries.
The vertical rotisserie, on the other hand, isn't that ancient. It was  invented during the 19th century in the Ottoman Empire. It was widely  popular and quickly spread throughout the empire.
Since then, it has influenced some of the most well-known cuisines. It  inspired some of the most beloved dishes like the Greek Gyros, the  Arab Shawarma, Canadian Donair, and the Mexican Al Pastor.
Everything you cook on a rotisserie has a taste to it that is unique and  unforgettable. That taste is what makes rotisserie so popular. That  taste comes from the juices of the meat. Using those juices keeps the  meat moist and enhances the taste as well.
More like the Chicken Doner Kebabs Recipe
I know that you're going to love this recipe. It will make your day as it  has made mine. There are many recipes we have that I'm sure you'll  love as well.
I hope you enjoy making these amazing dishes just as I enjoy sharing  them with you.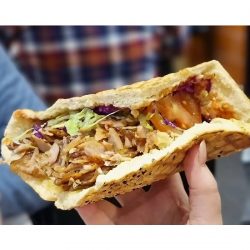 Chicken Doner Kebabs Recipe
Ingredients
1

kg

Chicken thighs, skinless and boneless
Olive oil (for drizzling)
MARINADE:
1

cup

plain yogurt (Greek)

3

garlic cloves minced

1 ½

teaspoons coriander powder

2

teaspoons

Cumin powder

2

teaspoons

Paprika

1

teaspoons

cayenne pepper, optional

1 ½

teaspoons

onion powder

½

teaspoon

black pepper

2 ½

tablespoons

tomato paste

1 ½

teaspoons

salt

1

tablespoon

Lemon juice

2

tablespoons

olive oil
FOR SERVING
Lebanese bread (flatbreads or pita bread)
warmed Finely sliced iceberg lettuce
Tomato slices
Hummus
Tabbouleh (optional)
Grated cheese
Chili Sauce
Instructions
Mix all the "Marinade" ingredients in a large bowl. Cut the chicken  thighs in halves and add these in the prepared marinade. Coat well,  cover the bowl and put it in the fridge. Let it marinate for 24 hours.

Note: If you're in a hurry, you can marinate it for 3 hours only.  Although, in this case you will have to add an extra ½ teaspoon of salt.

Step 2:

Preheat your oven to 220 °C (430 °F). If you're using a fan or convection  oven, preheat to 200 °C (390 °F).

Prepare a pan and line it with foil. Remember to choose the right pan.  You should be able to easily prop the skewers in the pan so the chicken  is slightly elevated from the base.

Step 3:

Now prepare the chicken for baking. Take it out of the fridge. Take a  piece of the chicken, fold it in half and push it on two skewers. Take  another piece and push it on the skewers. The chicken pieces should be  closely packed. Continue doing this until the skewers are almost filled  to the end. Then repeat with other skewers until there's no chicken left.

Step 4:

Support the skewers with the chicken on the baking pan. Drizzle some  oil on them. Bake until the chicken turns golden or for about 35  minutes.

Note: Make sure the chicken isn't touching the base of the pan. Also, if  you see some charred bits after baking, don't worry that's supposed to  happen.

Step 5:

Use a spoon to pour the juices from the pan over the chicken. Then  turn them over and drizzle with oil. Bake for around 20 minutes. Pour  the pan's juices over the chicken again and let it stand for 5 minutes.

Step 6:

Now the chicken is ready to be carved. Stand the skewers up and slice  thin pieces of the meat. Now that the chicken is ready you can serve it,  as described below.

Step 7:

Place a Lebanese bread (or pita bread or some other flatbread) on a  piece of foil. Spread hummus generously over the bread. Put shredded  lettuce, slices of tomato, Tabbouleh (optional), cheese and the  prepared chicken. Drizzle some chili sauce over that, if desired. Roll it  up tightly and enjoy.