Best King Cake Recipe
All Hail the King Cake! We have the King of cakes himself in our kingdom of
recipes today This king cake recipe is incredibly tasty; though not the fastest to cook. But that won't matter, because the results of your hard work will be satisfactory and YUMMY. The king cake recipe is quite easy, but requires
patience and a lot of strength to hold yourself from "ravaging the cake"
before it's done. Sounds funny right now, but wait till you try the recipe;
you'll understand well enough.
This easy king cake recipe is a beautiful dish with a taste just as good as
its looks. As its name might suggest, it's a "fancy" kinda cake. This is a recipe
for special occasions like weddings and birthdays. It could be an amazing
gift for loved ones and sometimes for yourself as well.
You can let your inner painter out on these cakes. Be creative with the colored sugars and make some designs on the top, or write a name (for birthdays), it's all up to you.
For such occasions (when you are usually in a hurry), make the cake in
advance and freeze it. It can last about a week in the refrigerator. You should place your cake in an airtight container after it cools and then transfers it to the freezer. When you're ready to eat it, let it thaw at room temperature and enjoy your king cake.
The king cake recipe has an "interesting" history and a deep meaning as
well. So, let's begin at the beginning and see where this recipe came from.
Unfortunately, we don't have any idea where the original king cake recipe
was made, but we do know where it "might" have come from (better than
nothing right…).
Traditionally, a toy baby is hidden in a king cake; the one who finds it gets a
reward. There was a tradition, very similar to this one, in ancient Rome.
During their festival of Saturnalia, ancient Romans hid a bean inside a
galette (a French term for a variety of flat, round, and crusty cakes), and
whoever found this bean will be the king of the day. So it can be assumed
that the king cake recipe evolved from this.
During the middle ages, this activity became associated with Epiphany. In
the Western Christian tradition, Epiphany is to celebrate the visit of the
Magi to Christ, that is where it gets its name from. As you see the traditional
king cake recipe is closely related to this festival. The small toy baby
is hidden in the cake actually represents Christ.
The colors and even the shape of the king cake recipe have their own meaning. The round or oval shape of the king cake represents the unity of faith; the purple is for justice, green symbolizes faith and gold is power. You see, I wasn't kidding when I said "deep meaning". This history and years of tradition are what make this traditional king cake recipe so much more than a simple cake recipe.
There are many variations of the king cake recipe in different regions and
all of them have a different and unique flavor. Different countries have
different ways of enjoying the King cakes as well, so there are many different traditions as well.
In France, the King Cake is a puffy pastry filled with almond-flavored
custard called "frangipane". There are also countries where the cakes are
decorated with figs, cherries, and candied fruit (yeah, that reminds me of the fruitcake recipe too). So, try this King cake recipe, and most importantly,
have fun.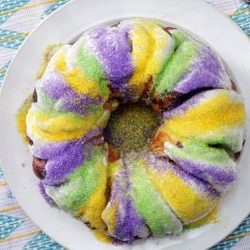 King Cake Recipe
Ingredients
2

packages active dry yeast

½

cup

warm water

¾

cup

sugar (divided: it won't be used all at once)

½

cup

butter, softened

½

cup

warm milk

2

large egg yolks

1 ¼

teaspoons

salt

1

teaspoon

grated lemon zest

¼

teaspoon

ground nutmeg

3 ¼

cups

all-purpose flour

1

teaspoon

ground cinnamon

1

large egg, beaten
GLAZE: 1 ½ cups confectioners' sugar
2

teaspoons lemon juice

2 or 3

tablespoons water

Green, purple and yellow sugars
Instructions
Step 1: Take a large bowl and dissolve the yeast in warm water. Add ½ cup sugar,butter, milk, egg yolks, salt, lemon, zest, nutmeg, and 2 cups of flour.Beat this mixture until it turns smooth, then gradually add the remainingwhile stirring until you get a soft, "sticky" dough.

Step 2: Put the dough on a floured surface and knead until it's smooth and elastic.Grease a large bowl and turn the dough over in it to grease the top. Coverthe dough and let it rise for about an hour (until it's double it's initial size).

Step 3: Punch the dough down and put it on a lightly floured, flat surface. Roll itinto a 16×10 inches rectangle.Combine the cinnamon and the remaining sugar, then sprinkle it over thedough (don't sprinkle on about half an inch of the edges). Start with a longside and roll like a jelly-roll. Pinch the seam to seal it.

Step 4: Place this roll on a greased baking sheet with the seam side down. Join theends of the roll to form a ring and pinch the ends to seal. Cover it and let itrise again for 1 hour or until it is doubled.

Step 5: Brush with egg and bake for 25 to 30 minutes at 375°F (or until it turnsgolden brown). And let it cool completely on a wire rack.
FOR GLAZE: Mix the confectioners' sugar, lemon juice, and water (enough to make it asconsistent as desired). Spread over the cake and sprinkle the colored sugarsover it.