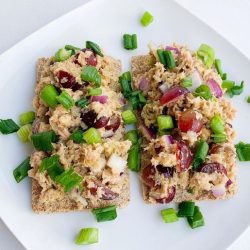 Tuna Salad Recipe
Ingredients
3

cans

(5 ounces) tuna, drained and flaked with a fork Note 1

3

tablespoons

finely chopped celery

2

tablespoons

finely chopped red onion (soak in cold water for 5 minutes to take away the "bite", optional)

2

tablespoons

pickle relish (or finely chopped bread and butterpickles)

2

tablespoons

finely chopped flat leaf parsley

1/3

cup

mayo (up to ½ cup for "creamier" tuna)

1

teaspoon

Dijon mustard

1

tablespoon

freshly squeezed lemon juice

1

teaspoon

olive oil

Fine sea salt and freshly cracked pepper, to taste
Instructions
Take a large bowl and put in the well drained tuna. Now add the choppedred onion and celery, lemon juice, Dijon mustard, mayonnaise, parsley,pickle relish, olive oil and salt or pepper to taste.

Stir to mix the ingredients and your tuna salad is ready.

Meal prepping:You can store the salad in airtight containers. It is better to separate in fouror so parts.
Notes
Note: if you soaked the red onions drain them properly before using
Best Tuna Salad Recipe
Tuna salad is the "favorite" dish of many and I totally get why. If your path
ever crossed with this delightful dish, you will be in love with it too. You can
find tuna salad in many delis and even some grocery stores, but where's the
fun in that? So, here we are with a wonderful recipe for tuna salad.
Making tuna salad is easy. You can use the years old recipe for a tuna
pasta salad that you have. Or you can even start from scratch, and with
that, we can help you. As long as you get the recipe right, you will be able to
make your favorite dish.
Like any other recipe, there are many versions of the tuna fish salad recipe.
The most popular version is the "classic tuna salad recipe". It is the
simplest version of tuna salad and even this simple tuna salad recipe is
packed with nutrients and taste. As I said before, there are many different
tuna salad recipes.
One of these recipes is the "tuna salad sandwich recipe". It is simple,
quick, and versatile, meaning that you can use this recipe in many different
ways. You're probably not going to feel like making a tuna salad
sandwich if you don't know how to make a simple tuna salad recipe.
So, your best choice will be the classic tuna salad recipe.
One way to enjoy this recipe is to serve it with a big side of vegetables for
lunch. This tuna salad recipe is very rich in nutrients and has a satisfying taste, that can win your heart in an instant. If you're looking for something
healthy in your diet, this salad is for you.
It is also a good idea to make your healthy tuna salad recipe ahead of
time. You can freeze the leftovers and when you wish to use them, just pop
them in the microwave for a few seconds. With this easy tuna salad
recipe, you'll always have something quick and healthy to cook if any
friends show up at the last minute.
This healthy tuna salad recipe will be a good choice for your family to
eat. It is better, in so many ways than the junk food you can order and it's
delicious too. It's easy to prepare and can save you some money as well.
Most people prefer their own version of the tuna salad recipe, but if you
don't have the time or the interest to make your own kind of tuna salad
recipe, there are plenty of recipes on the internet that can help you, like our recipe.
I'd recommend looking for the recipe with the ingredients you like
and someone who is familiar with the best tuna salad recipe. You will be
surprised to find out that your favorite tuna salad recipe, you get in a
restaurant, can be made easily without any prepared items.
The best thing about this recipe is that you can experiment with this dish and have a healthier or even better version of the traditional tuna salad recipe.
You can tinker a bit with the tuna salad recipe to change it according to
your taste. And in just a matter of minutes, you can make a dish of your own. You can make a tuna salad recipe that tastes just like you want it.
Whether you use a pre-made tuna salad or make your own, you will get an
incredible blend of taste and nutrition. It will be a dish you'll enjoy every
time you cook. All you have to do is, follow the provided directions properly.