Quick & Easy Honey Bun Cake Recipe
Here we are once more, with a sweet little treat for me (and you of course). It feels like ages since I tried a sweet dish. That's why today I  thought of trying a rather special recipe. I've actually never tried this recipe before and I was really excited about it. And on my first attempt, I did a pretty "ok" job. It was a little overcooked but no one actually noticed that.
OK, so let's get one thing straight, this honey bun cake recipe can be a  little misleading at times. In fact, this is the reason my cake got overcooked. But don't worry that wouldn't happen to you, because I'm here to help you out. 
We'll talk about the confusing bits in detail and I'll give you some useful tips to make your cooking experience a little easier. I wrote the directions pretty straightforward; so that'll be "a piece of cake" for you.  See what I did there? *crickets chirping* ……… OK let's move on.
What's a Honey Bun Cake recipe?
Here comes the very first confusing thing about this recipe; its name.  You might be surprised to find that there is no "honey" in the ingredients, even though there's a pretty big "HONEY" in the name.
There's a simple explanation for that actually. It's called the "honey" bun cake recipe because its taste resembles that of a honey bun. Not because there's actual honey in it. However, it wouldn't be a bad idea to drizzle some honey over the cake before serving. I'm sure it would taste amazing.
A honey bun cake is, in fact, a coffee cake (quite frankly it doesn't contain any coffee either, it's usually taken with coffee and thus the name). This easy honey bun cake recipe has some simple ingredients. Although  you may have a few questions about them like:
What kind of cake mix should you use?
You can use any kind of yellow cake mix you like but in this honey bun cake recipe, Duncan Hines cake mixes are best. They are very easy to use and taste very good.
It doesn't even have to be a yellow cake mix. You can use any cake mix easily available to you. Although the cake might be a little lighter, don't worry the taste won't change even a bit.
What if you don't want "pecans" on your cake?
Well, in such a case you can use walnuts or any kind of nut for that matter. I've tried this honey bun cake recipe with walnuts and it tastes great. But I don't know about other nuts so you should take this advice with a grain of salt.
A few helpful Tips;
Remember that my cake got a little overcooked; let me tell you why that happened. I decided to use my brand new glass baking pan for this easy honey bun cake recipe. Well, it turns out glass is a very good conductor, a little too good. 
So those of you who use a glass pan for baking, lower the temperature to 325° F if you don't want your cake overcooked.
Next, let's talk about why do you have to cover the cake immediately after it comes out of the oven.
You should cover it tightly with aluminum foil, this way the heat will be trapped inside the pan and the cake will come out wonderfully moist. And that is the secret to its amazing taste; its moisture.
Keep these in mind and you'll be able to make this honey bun cake recipe from scratch.
Do you like Baking?
If you're into baking, we have a few recipes for you like:
• Flourless peanut butter cookies recipe. • Banana nut bread recipe. 
And,
Happy Baking. ?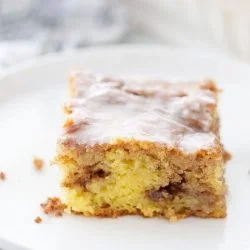 Honey Bun Cake Recipe
Ingredients
For the Coffee Cake
1

grams

(510 g) standard yellow cake mix

4

beaten eggs

⅓

cup

water

¾

cup

vegetable oil (or canola oil)

1

cup

sour cream
For Toppings
1

cup

packed dark brown

1

tablespoon

sugar cinnamon
½

cup

Chopped pecans
For the Glaze
1 ½

cups

powdered sugar

½

cup

melted butter

1

teaspoon

pure vanilla
extract Salt, a pinch
Milk, as required
Instructions
Step 1:

To start, preheat the oven to 350° F.

Then combine the cake mix, eggs, water, vegetable oil (or canola oil), and the sour cream in a large bowl. Use an electric mixer to easily beat the ingredients, mix for one minute.

Then combine the cake mix, eggs, water, vegetable oil (or canola oil), and the sour cream in a large bowl. Use an electric mixer to easily beat the ingredients, mix for one minute.

Note: If using a glass baking pan, lower the temperature to 325° F. 

Step 2:

In a medium-sized bowl, mix the dark brown sugar, cinnamon, and the chopped pecans. Then set these toppings aside for later.

Step 3:

Grease a baking pan (9×13 inches) and pour the prepared cake batter into it. Now sprinkle the prepared toppings over the batter and swirl them into it by using a butter knife. Just to push them in the batter a little.

Step 4:

Bake the cake on the center rack for 30 to 35 minutes. Or until a knife inserted in the cake comes out clean.

Meanwhile prepare the glaze by combining the powdered sugar,  melted butter, vanilla extract, salt, and the milk in a separate bowl and whisk them until smooth.

Step 5:

When the cake is ready, take it out and immediately pour the icing over the hot cake. Then tightly cover the pan by using foil and let it cool completely.

When cool, cut it into 12 pieces and serve.

Note: You can reheat the cake in a microwave if you prefer it warm.