I am really excited to share a unique recipe with you today that has an interesting history. This wafer roll recipe is a perfect dessert with an other-worldly flavor. Make the best wafer rolls that are crispy and filled with chocolatey goodness.
This delightful recipe uses only a few common ingredients that are easily found at any grocery store. You will need all-purpose flour, powdered sugar, some salt, baking powder, cocoa powder, cooking oil, milk, vanilla essence, and a little chocolate spread.
With these simple ingredients, you can whip up incredible wafer rolls that are sure to impress everyone at your table.
What are Wafer Rolls?
Wafer rolls are a very simple kind of dessert. They have different names, depending on where you are. So you might know them by some other name, such as biscuit rolls, or maybe crispy rolls, or even love letters. The latter are often found in England.
When it comes to their exact nature, they are crispy rolls made of a thin wafer. The ingredients used to make the wafer, and the technique used for cooking it, vary greatly from one part of the world to another.
Generally, there are some common ingredients like flour, sugar, baking powder, and such.
Another famous trend in wafer roll recipes is the filling. There are some variations that satisfy only with the crunchy wafer but usually, there is something inside the roll. The most favorite filling for wafer rolls is chocolate, of course.
However, there are numerous other ingredients used for the purpose of filling. Coconut cream for example is another famous filling. Sometimes whipped cream, fruit jam, or even berries are used.
How to make the best Wafer Roll?
To make a crispy wafer roll, you need to be patient. Prepare the batter and make sure that it has a nice flowing consistency. Also, see that there should be no lumps in the batter, it has to be smooth for flawless wafer rolls.
This recipe actually makes it very easy to make these rolls. You will need no special equipment at all.
Once the batter is ready, just take out a pan and spread a tablespoon of the batter on it. Try to make it as thin as possible. The thinner the wafer, the crispier it will be.
Keep in mind that the wafer remains soft for a very short time. Try to roll it as soon as possible or it will start to break apart.
On Origins and Barquillos
Now, let's talk about that interesting history I've told you of.
The earliest we hear of anything resembling wafer rolls is a Spanish dish called Barquillos. As it turns out, Barquillos were very popular back in the day. So much so that there were these roaming sellers of this treat named the Barquilleros.
And here is where it starts to get interesting. These Barquilleros had a device like a roulette spinner that they used to play with their customers. The customers will pay to spin the roulette and depending on where the wheel stopped, he or she will get to buy extra barquillos for the same price.
The Barquillos were so popular in fact, that they were a major part of the major events and festivals in Spain.
And after so many years, this incredible delight has evolved into numerous different dishes that are beloved all around the world.
Want some more Treats like the Wafer Roll Recipe?
If you are looking for more easy recipes like this one, here are a few recommendations:
Delicious and Fluffy Vanilla Cupcakes Recipe
How to Make Fresh Frozen Cranberry Yogurt at Home?
EASY CHRISTMAS Fruit Cake Recipe.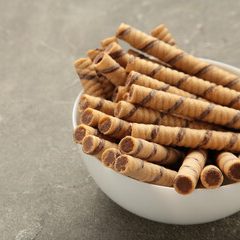 Wafer Roll Recipe
This wafer roll recipe is a perfect dessert with an other-worldly flavor. Make the best wafer rolls that are crispy and filled with chocolatey goodness.
Ingredients
¾

cup

All-Purpose Flour

½

cup

Powdered Sugar

2

pinch

Salt

½

tsp

Baking Powder

1 ½

tbsp

Cocoa Powder

3

tbsp

Cooking Oil

½

cup

Warm Milk

½

tsp

Vanilla Essence

Choco Spread
Instructions
Step 1:
Start with a bowl, add ¾ cup of flour, ½ cup of powdered sugar, and two pinches of salt. Next, add ½ teaspoon of baking powder and ½ tablespoon of cocoa powder. Mix until everything is smoothly blended.
Step 2:
Now add 3 tablespoons oil, and 12 cups of warm milk into this mixture and mix again until a smooth batter is formed. Add ½ teaspoon of vanilla essence and fold it into the batter.
Step 3:
Now, take a pan and gradually heat it on low flame. After a minute, take the pan off the flame and add about a tablespoon of batter to the pan. Spread it as thin as possible. Put the pan back on low flame for about 3 minutes before flipping the thin wafer that has formed to cook the other side. The other side should take only about a minute.
Step 4:
Take the wafer out of the pan and let it cool for about half a minute. Then roll it into a wafer roll by using a chopstick or pencil.

Repeat this process with all the remaining batter. Add a tablespoon of batter, cook it, roll it, and set aside; until all of the batter is gone.
Step 5:
While the rolls are cooling, prepare their filling. Take a piping bag and fill it with some chocolate spread. Make a small cut at the tip of the bag and fill the rolls carefully.

After that, your wafer rolls are ready to be enjoyed.
Video