Something fresh and unique to celebrate this Spring. This Ginger Pudding Recipe is quite new even to me. I have only tried it twice and I have to admit it is a delicious dish. It packs a surprising mixture of flavors for a dessert.
These tasty ginger puddings have an incredibly soft texture. The Ginger Sauce adds to the richness of this dish with its moisture and savory taste. 
Alright, let's see how I discovered this recipe and what I learned from trying this great Ginger Pudding Recipe. And most importantly, let's talk about what can help you in making the perfect ginger puddings for yourself and your loved ones.
What is Pudding?
The word pudding can cause quite some confusion. The problem is that it can be used to describe a number of dishes. 
Puddings can come in numerous shapes, sizes, and flavors. They can be sweet, or savory. They can be made from meat or can be dairy-based. 
This word can be used to talk about Jellies, or even Egg-based desserts (which some of us might know as Custards.)
So, What is Ginger Pudding?
Ginger pudding is quite unique, even among the vast collection of puddings. There are quite a few recipes out there that all tell some different methods to make this kind of pudding. 
But our focus will be on this specific recipe so that you don't get confused. 
This recipe creates a simple kind of pudding that combines sweetness and savory in a perfect blend.
What makes this Ginger Pudding Recipe Special?
This recipe creates a nice balance by taking all the best aspects from other pudding recipes and putting them in one dish. 
You will find that half of the dish is a cake-like soft pudding while the other half is a thick sauce much like a custard. 
This is what I think sets this recipe apart from the rest. 
And besides, this recipe is the easiest to follow. The detailed instructions and simple ingredients make this dish even more fun to make. 
And if that wasn't enough, this recipe has a phenomenal taste that you can never resist. The ginger gives a nice warm flavor to the puddings. The ingredients come together in a wholesome way, each contributing to the texture and taste of the ginger pudding.
How to make the Perfect Ginger Puddings?
This recipe gives you the easiest and most delightful experience of making the best ginger puddings. But you can never go wrong with a little more guidance.
The first thing you should know is the ingredients. Most of these ingredients, I am positive, can already be in your pantry. But a few can cause some confusion.
For instance, the Self-rising Flour.
Some beginners might scratch their heads at the mention of this particular item. So let me clarify what this is.
Self-rising flour is regular flour but with the raising agents like baking powder and a little salt added to it. You can buy it from any grocery store or make it yourself, either way works.
Then there is the dark muscovado sugar. I used this sugar because the recipe I followed recommended it. Unfortunately, I have not tried any substitute for this ingredient.
But that is because I find this sugar best for the recipe. It gives a memorable sweet taste and luxuriance to these ginger puddings.
Conclusions
I would like to close this article by Thanking all of our followers. Your support means the World to us. And we are truly happy to see your progress.
Here are a few more ideas to help you get better at cooking: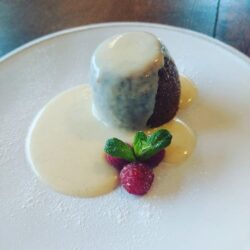 Ginger Pudding Recipe
Ingredients
1 ¾

cups

or around 260g of self-rising flour

1 ½

tsp

ground ginger

¼

tsp

bicarb soda

100

Gram

Dark muscovado sugar

2

tbsp

Treacle

120

Gram

melted unsalted butter

½

cup

125ml buttermilk

3

eggs

150

Gram

finely chopped ginger
Thickened cream, to serve
GINGER SAUCE
100

Gram

Cubed unsalted butter

⅓

cup

or 75g dark muscovado sugar

⅓

cup

or 80ml ginger beer

200

ml

thickened cream

120

gram

chopped ginger
Instructions
Step 1:

Start with preheating the oven to 180°C or 360°F. Thinly grease a muffin pan.

Step 2:

Gradually sift the flour, ginger, and bicarb soda into a large-sized bowl. Whisk the sugar, treacle, butter, buttermilk, and eggs into the bowl and continue to whisk until well incorporated.

Step 3:

Next, add the ginger, and gently fold until it is combined with the batter in the bowl. Then divide the mixture equally into the ready muffin pan and bake for about 25 minutes. It will turn golden and should be tender to the touch.
Ginger Sauce:
Step 1:

While the puddings are getting baked, prepare the ginger sauce. Put the butter, sugar, ginger beer, cream, and chopped ginger into a saucepan. Cook over medium to low heat, and frequently stir until the sugar is completely dissolved.

Step 2:

Bring it to a boil and continue cooking while stirring continuously for another 5 minutes, until it thickens. Then remove it from the stove and set it aside to cool.

Step 3:

Take out the puddings and put them into serving bowls. Pour the warm sauce onto the puddings and serve.