Do you know how to make fresh frozen cranberry yogurt at home?
I have to say this was a new one for me. There is something extraordinary about this recipe. I enjoyed every second of making this dish. And I hope you have just as much fun with it. I came across this recipe during the Lockdown.
I was trying all sorts of recipes around then because I had nothing else to do. So one day, I just got up and tried this recipe. And the moment I tasted it; I fell in love.
What is frozen Cranberry yogurt? 
Cranberry yogurt is the summer time dessert of your dreams. It is super easy to make, has easily accessible ingredients, and holds an other-worldly flavor that is instantly addictive. 
You can think of this as a unique twist on the ordinary cranberry ice cream recipe. But rather than cream, it has whole milk yogurt. It is way more healthy. Plus, it has a finger-licking good taste. 
Oh! the way its savory flavor mixes with the sweetness. It is like a firework, and I love it. 
Making this cranberry yogurt dessert was an incredible experience. It might seem like an exhausting process, but there isn't that much to it.
You only have to make the mixture and freeze it. You can carry on with your life while it peacefully settles and freezes into a delicious and creamy bowl of frozen yogurt.
Now that you know what the recipe is. Let's dig a little deeper and look at some tips that helped me when I first tried this dish.
How to Make Fresh Frozen Cranberry Yogurt without an Ice cream maker? 
I know that everyone doesn't have an ice cream maker at their disposal. Yes, it can turn out to be a slight problem. But, have no fear, because I have found a solution for you. 
Honestly, making this dish without an ice cream maker can be challenging. But, trust me, all that effort is worth it in the end. 
Instead of an ice cream maker, put the cranberry yogurt mixture in a regular freezer. Freeze for 20 to 30 minutes. 
Take the yogurt out every 10 minutes and give it a nice stir. Stirring will ensure that the yogurt does not turn into solid ice. 
When the yogurt is thick like ice cream, take it out of the fridge and serve. 
How to store the Frozen Cranberry Yogurt Dessert? 
Although, I doubt this dessert will last longer than a day. I must tell you how to store it properly, just in case. 
You can store cranberry yogurt in an airtight container and freeze it. It can last in the freezer for about a month. 
Depending on how long it is frozen, the yogurt might need time to gain the desired thickness. Let it thaw for half an hour before serving, so it is easy to scoop.
Some more delicious desserts like this Fresh cranberry recipe!
If you liked this recipe, please let us know in the comments. If you have any tips and tricks to make this recipe better, feel free to share them.
There are a few recipes I think you would like. Give them a try as well.
Our heartwarming fruitcake recipe is guaranteed to make you fall in love with baking.
If you are looking for a simple and quick dessert. Try out our custard recipe.
Our Easy Flapjack Recipe will become your favorite cookie recipe.
We always try to add as many diverse recipes as possible. If you have any recipes that you want us to try, send them our way.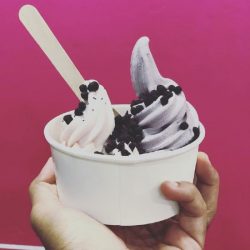 How to make Fresh Frozen Cranberry Yogurt
Ingredients
For the Cranberry Sauce 
1

cup

water 

1

cup

sugar

1

340 grams

package fresh cranberries Or Canned cranberries
For the Cranberry Yogurt 
1 ¾

cups

plain whole milk yogurt

¾

cup

(3 ounces) powdered sugar, sifted

½

cup

heavy cream

2

teaspoons

lemon juice

½

teaspoon

lemon zest

½

cup

fresh cranberry sauce, chilled + some extra for serving
Instructions
Step 1:

First, take water and sugar in a medium saucepan. Bring the water to a boil, then add the cranberries. Reduce the flame and simmer the mixture. Stir frequently for about 10 minutes or until the cranberries burst. At this point, the sauce will be slightly thickened.

Step 2:

Now you should turn off the flame and let the sauce cool at room temperature. Once it has cooled completely, you can put it in the fridge.

You might notice that the sauce is much more than is needed for the recipe. That is intentional. You will need the extra sauce at the time of serving
For the Cranberry Yogurt
Step 1:

Take the yogurt, powdered sugar, cream, lemon juice, and lemon zest in a medium-sized bowl. Whisk these ingredients until they turn nice and velvety. Make sure there are no lumps in the mixture.

Freeze this mixture in an ice cream maker, according to its instruction.

Step 2:

While the yogurt mixture is freezing, take another bowl and pour half a cup of cranberry sauce in it. Use the back of a spoon to crush the berry bits in the sauce.

The tiny berry pieces are okay; you don't have to crush them.

Step 3:

When the yogurt mixture is frozen, quickly put it in a medium bowl. Add the cranberry sauce and gently incorporate it into the yogurt with a rubber spatula.

Step 4:

Let this mixture set in the freezer; this would take at least 30 to 60 minutes. Take the frozen yogurt out when it is slightly set and has a light texture.

Now comes the part where you enjoy a scoop of delicious frozen cranberry yogurt with a dollop of cranberry sauce. Just remember to let it soften a bit before eating.